Kansas and Missouri are known for rolling plains, decadent food, and beautiful scenery, but like any state, there are potential dangers that lurk within state lines. In the span of two years, between 2015 and 2016, nearly 2,600 people were killed in motor vehicle collisions in Kansas and Missouri. While fatal crashes can occur at any time and any place, these numbers prompt questions of safety for the communities in which they happen.
In a new interactive map created by Kansas City personal injury firm Wendt Law Firm P.C., over two years of collision records were analyzed to identify the most dangerous highways in both Kansas and Missouri. In using this data, officials and residents alike can help improve driving conditions and the enforcement of responsible driving in high-risk areas to help keep the community, and its' members, safe.
To view the map, click here.
Missouri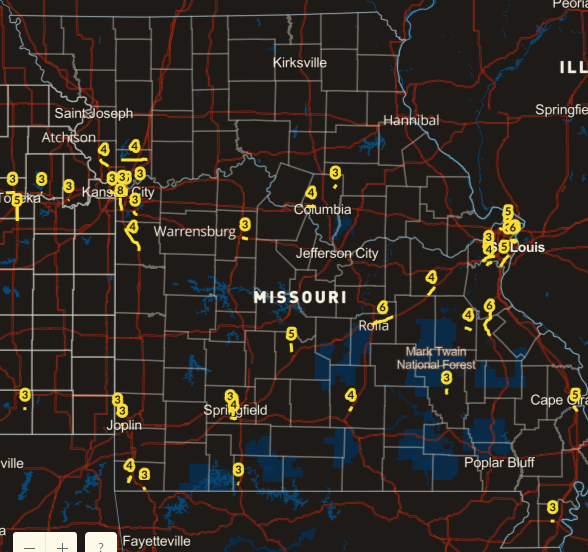 When looking at the data as a whole, Missouri had the majority of the deadly segments in the study, accounting for roughly 89% of crashes and fatalities. St. Louis and Kansas City were the locations of the most data as these are currently the two highest populated areas in Missouri.
Most notably, a stretch of Page Avenue in the city of Wellston hosted 3 crashes and 3 fatalities in only 0.53 miles, making it the highest-ranking segment with a density of 5.59 fatalities per mile. Other noteworthy segments include Interstate 270, Interstate 70, and State Highways 141 and 115.
Looking at this crash data, there is room for concern. While the Missouri Coalition for Roadway Safety works to attack the problem of traffic crashes and deaths, there is much more to be done. Increased community education regarding distracted, drowsy, and drunk driving is necessary, as well as heightened police surveillance to enforce speed limits, seat belt usage, sober driving, and restrict cell phone use.
While many consider car collisions to be "accidents", they aren't. Motor vehicle crashes are a result of failure to drive responsibly and defensively.
Kansas
In the 40 highway segments of the study, only 6 were exclusive to Kansas, but results show these highway stretches were just as deadly and concerning as their Missouri counterparts.
The deadliest highway section in Kansas was identified as Interstate 70, also known as the Kansas Turnpike. In just 0.69 miles of highway, there were 3 crashes and 3 fatalities. In a section of US Highway 24 in the state's capital, there were 3 collisions and 6 fatalities in only a 0.85-mile stretch.
Identifying these accident trends is crucial to helping improve safety. Kansas may consider adding additional safeguards, such as increased police surveillance on the Turnpike, additional driver education of high-risk areas, or additional stop signs, to help reduce the rate of crashes. Collisions happen for a myriad of reasons and thus require a multi-faceted approach to prevent them.
How This Data Can Help Improve Community Safety
Using the findings in this study, communities can explore current problematic areas on their roadways and create preventative measures to mitigate crashes. Through understanding current threats and possible imminent threats, measures and precautions can be taken to help keep communities safe. States often have monikers and are known for something, but having a high fatality rate from car collisions should not be one.