A new visual traffic study by Eric Ratinoff Law Corp, a Sacramento personal injury law firm, helps point out the most dangerous intersections for drivers in the city of Sacramento. According to its findings, the city had faced over 26,000 car collisions between the years of 2013 – 2017. About 20% of these accidents had occurred at an intersection. For the drivers involved, these car crashes have caused 262 severe injuries and 46 deaths. The study was done by a local Sacramento car accident law firm. The firm's law experts wanted to analyze the city's intersections that have experienced multiple car crashes and find out which ones pose the greatest threat to all people on the road. In turn, drivers, pedestrians and cyclists could practice extra caution when entering these hazardous intersections.
The study ranks and analyzes over 75 intersections within the city limits by frequency of car accidents and if these accidents have caused any injuries or deaths.
Here is a quick breakdown of the top 5 most dangerous intersections according to the study's data and danger index rating.
Top 5 Most Dangerous Intersections
Arena Bl. & Truxel Rd.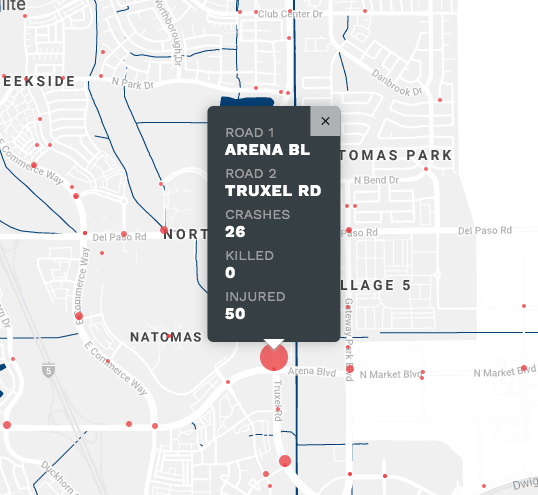 This large 41 lane intersection is ranked as the most dangerous intersections in the city of Sacramento, CA. High traffic from King's games, Sleep Train Area events or the everyday airport traffic, is what makes this intersection more prone to collisions resulting in injuries. This intersection has seen over 26 crashes and caused over 50 injuries. Although it is ranked the as most dangerous, this intersection has no reported fatalities.
Los Robles Bl. & Marysville Bl.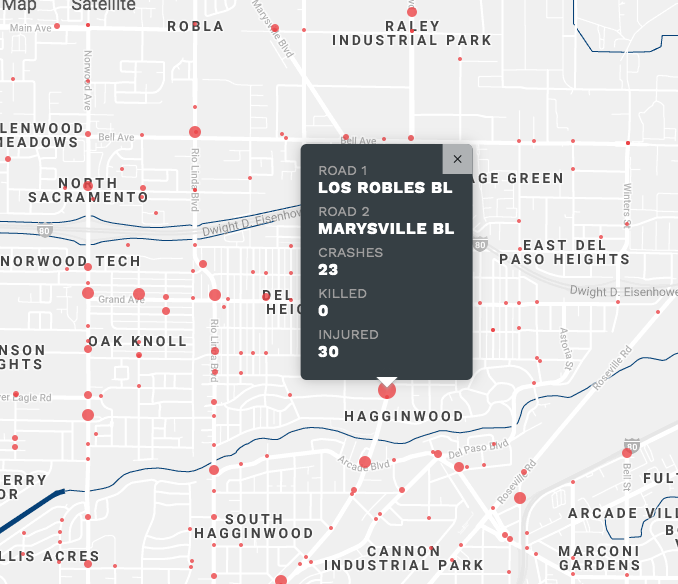 Right next to Hagginwood Park, the second highest ranked intersection of Los Robles and Marysville has faced 23 accidents with 50 victims who suffered from an injury. The study shows that 2 of these were serious injuries.
12th St. & I St.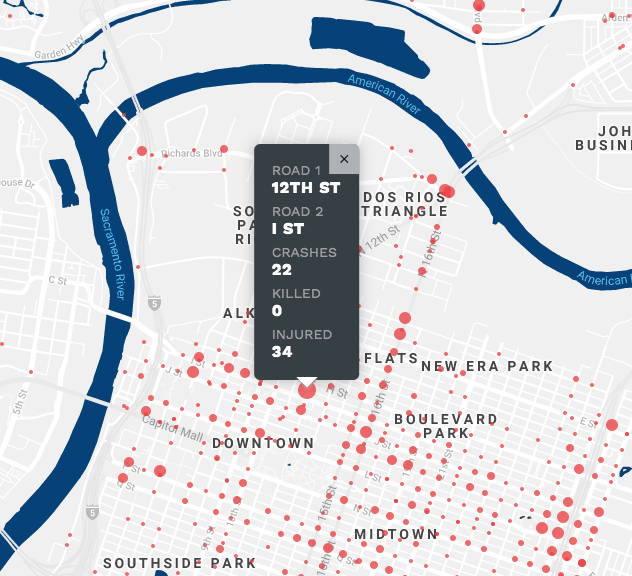 This intersection had a total of 22 crashes. These collisions had resulted in a total of 34 injured persons. One of the victims had suffered from a severe injury. Compared to the other top 5 intersections, 12th and I is the closest to the busy downtown area of Sacramento.
Franklin Bl. & Mack Rd.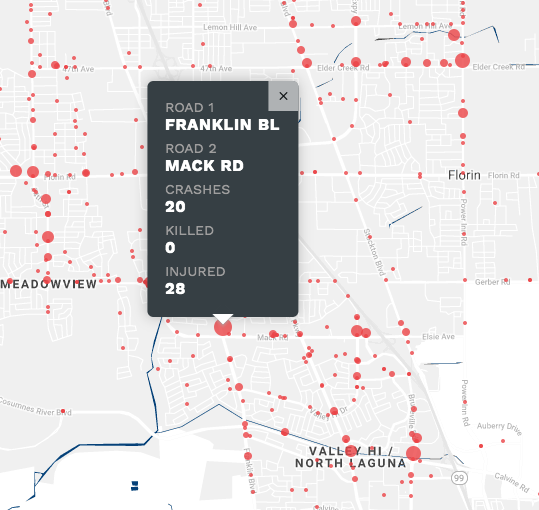 This southern Sacramento intersection had a total of 20 crashes. Divided by severity level, there were 19 minor injuries, 8 visible injuries and 1 serious injury. In contrast to the top 5 intersections, Franklin & Mack resulted in the most visible injuries caused by accidents.
56th St. & J St.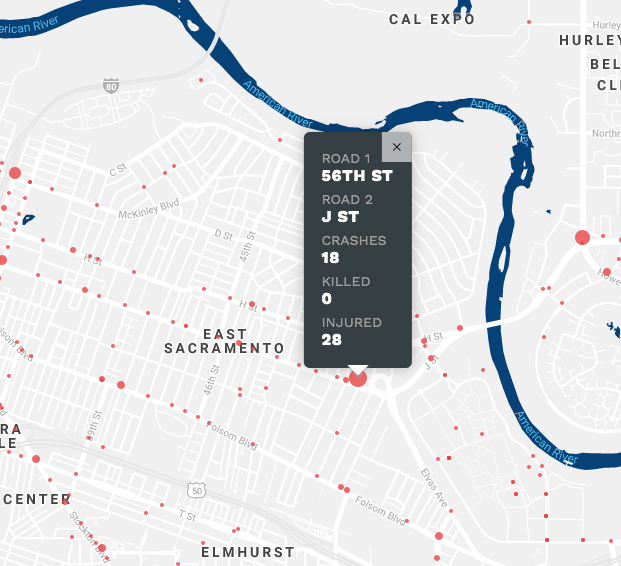 Number 5 on the list Is 56th St. and J which is located in East Sacramento. This intersection had a total of 18 crashes which resulted in 28 injuries.
Intersection with the Highest Amount of Fatalities
After looking at the top 5 dangerous intersections, we discovered that none of them rank for their counts of fatalities. The study points out that the intersection Auburn BL & Rt 244 holds the highest number of fatalities and ranks at number 14 on the danger index with a total amount of 16 car crashes.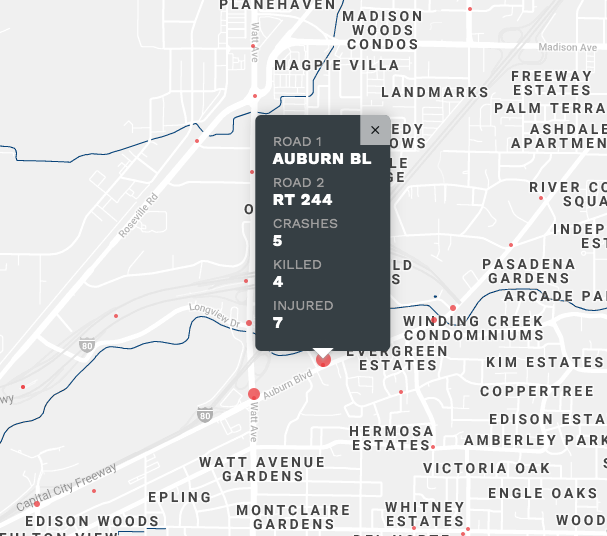 Intersection with the Highest Amount of Serious Injuries
Looking closer at the ranking list, we noticed that two intersections had tied for the most severe injuries from every intersection on the list. We also saw that both of these were not in the top 5. But, the highest ranked intersection between the two is Gateway Park & Truxel for. This ended up ranking as number 7 with a total of 4 serious injuries. The other intersection that ties with 4 serious injuries is San Juan Rd. & Truxel Rd., which is placed at 13. We discovered that both these roads share Truxel Rd. Which is the road that connects with Area Blv., which is the most dangerous intersection ranked in this study.