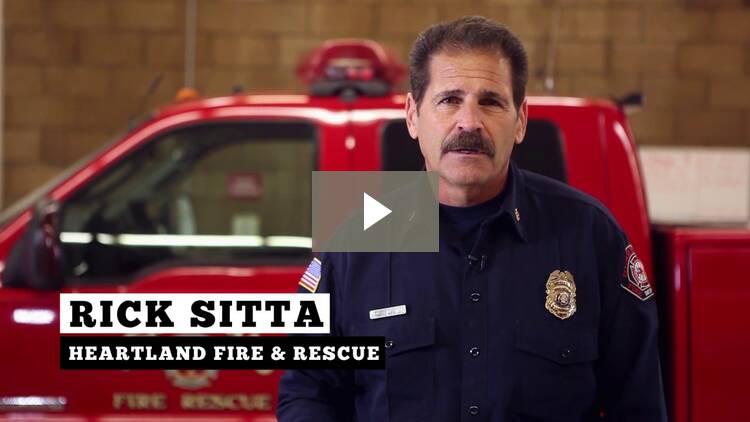 We at Safer-America partnered with Heartland Fire and Rescue and CAL FIRE to create this educational video on holiday tree safety. According to the National Fire Protection Association, from 2007 – 2011 fire departments responded to an average of 230 home fires each year that were started by holiday trees. The best way to keep your home and family safe from fire this holiday season is to choose and maintain a fresh and well watered holiday tree.
To learn more about holiday tree safety, here are some tips from Fire Chief Rick Sitta of Heartland Fire and Rescue.
Hi, I'm Rick Sitta, Fire Chief Heartland Fire and Rescue.
I'm here to share with you some tips on holiday live tree safety. During the holidays make sure that safety is at the top of your list. Remember a dry tree can be an extreme fire hazard in your home.
The demonstration you are going to be provided shows you how easily a dry tree can go up in flames when not properly cared for.
When it comes to the selection and care for your holiday tree, please keep the following tips in mind:
When picking your tree, choose a tree that is fresh and green.
Avoid trees that lose a lot of needles when running your hands against the branches.
When placing a tree in a stand, use a tree stand that allows for watering.
Prior to placing a tree in a stand, recut two inches from the base of the tree and keep the base of the reservoir filled with water.
Check the water level daily, water can be absorbed by the tree very quickly.
Make sure your tree is at least 3-4 feet away from any heat sources like a fireplace, vents, space heaters, candles or high heat lights.
Make sure your tree is not blocking a doorway.
Inspect the lights you place on your tree and around your home. Make sure they're not old strands that have frayed or broken wires or broken bulbs.
Always carefully check the condition of your light strings before plugging them in, or hanging them on your tree. And turn off those lights when going to bed or when leaving the home.
For additional protection, some flocking materials can act as a fire retardant. Always check to see if the flocking you select offers this additional protection. Protect the children and pets in your household by checking to see if the flocking is dangerous if consumed.
Thanks for sharing this time with us and please remember that a dry tree, flocked or not, is still a fire hazard, and all live trees need water.
Lets work together to keep the holidays safe.
From your friends at the fire station, have safe Happy Holidays!
A special thanks to:
Rick Sitta – Fire Chief of Heartland Fire and Rescue
Monica Zech – Public Information Officer for the City of El Cajon
Kendal Bortisser – Fire Captain and Public Information Officer for CAL FIRE – Monte Vista Unit
Heartland Fire and Rescue Engine 9 Crew: Captain Jim Hemphill, Engineer Joseph Howarth, Firefighter Louie Kinoshita