The great outdoors, with its vast landscapes and sense of adventure, beckons countless enthusiasts each year. But amid the allure lies a harsh reality: outdoor activities can turn deadly, leaving behind heart-wrenching tragedies. In this blog, we delve into several devastating cases of wrongful death on outdoor excursions and public lands. These incidents underline the crucial need to address liability and safety in such outdoor activities and remind us of the importance of compassion and awareness in the aftermath of these heart-rending losses.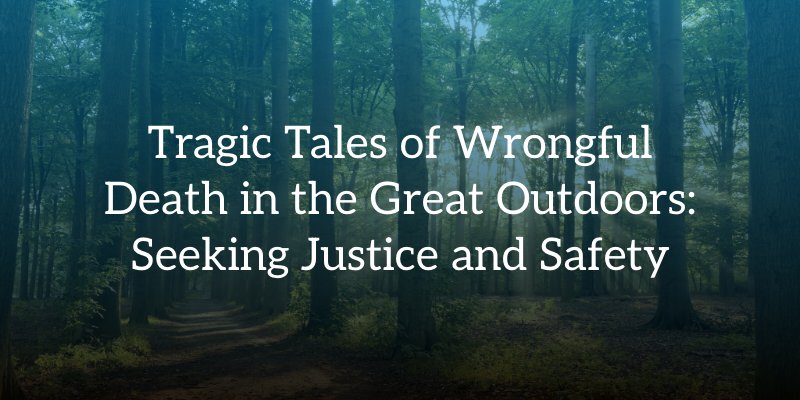 Hiking Hazard in Hawaii
Back in December 2006, a tragic hiking incident in Hawaii claimed the lives of two young cousins, who were out on what should have been an exhilarating excursion in a state park. The sorrowful tale unfolded because of a misleading trail sign, leading the pair to a perilous cliff, resulting in a fatal fall. A court ruling last year held the state responsible for the deaths, as the sign created a hazardous situation that led to this tragedy. However, the recent $15.4 million settlement – the largest in Hawaii's history – resulted in an uneven distribution of compensation between the families, adding to the pain.
This case underscores the importance of warning signs during outdoor activities and the ramifications they carry in terms of liability. It stresses the need for thorough preparation, clear instructions, and participant safety to prevent similar accidents in the future.
Boy Scout's Wrongful Death Misfortune in Texas
Meet Reid Comita, an energetic 15-year-old boy with dreams of becoming an Eagle Scout. In June, he embarked on an "Intro to Backpacking" course in Texas. Little did anyone know that this scouting trip would take a tragic turn, as Reid fell victim to heatstroke during an ill-fated hike in scorching temperatures. Allegations of negligence and inadequate supervision emerged against the Boy Scouts of America, accusing them of assigning Reid an advanced hike with inadequate adult oversight, and violating safety protocols.
The Comita family's wrongful death lawsuit against the Boy Scouts highlights the significance of the duty of care in organizing outdoor activities. It serves as a stark reminder of the importance of meticulous planning and thorough fitness assessment of participants. Organizations and leaders must prioritize the well-being of their participants to avert avoidable accidents.
Deadly Encounter with a Mountain Goat
A rare and tragic occurrence unfolded in Olympic National Park, where a hiker lost his life in a mountain goat attack. The victim's family filed a wrongful death claim against the park, alleging negligence for ignoring previous complaints about aggressive goats. In cases like this, proving negligence can be an uphill battle, given the complexities of outdoor safety and unpredictable wildlife encounters.
This case compels us to be vigilant during outdoor excursions, particularly in parks and wilderness areas, where dangers may lurk unexpectedly. It calls for improved safety measures and education for both visitors and park officials to prevent such devastating incidents.
A Mysterious Death in Washington State
The mysterious passing of Aron Christensen and his beloved dog, Buzzo, on a trail in Washington State, has left his family yearning for answers. The conflicting findings from multiple autopsies, including the discovery of a bullet in Aron's body, have fueled confusion and uncertainty. Faced with a $20 million lawsuit against Lewis County, the family insists on a thorough investigation and the pursuit of justice.
This tragic incident lays bare the need for transparent and accurate investigations into wrongful deaths. Families grappling with such profound loss deserve not just answers but also compassion, support, and a comprehensive understanding of the circumstances surrounding their loved one's passing. According to the lawyers of Malcolm Law, a personal injury attorney can help pursue justice for the family of the lost loved one in these cases.
Understanding Wrongful Death Liability in Outdoor Activities
Wrongful death claims involving outdoor activities come with a tangle of legal considerations. Tragic incidents can happen, but determining liability demands a careful examination of factors like negligence, duty of care, and adherence to safety regulations. Organizers and land managers must be fully aware of their responsibilities and proactively take measures to mitigate risks, with participant safety as the top priority. Those who are injured due to the negligence of excursion organizers or land managers can be held liable for both injury and wrongful death under the Federal Tort Claims Act (FTCA).  
Responsibility of Outdoor Activity Organizers and Land Managers
Outdoor activity organizers and land managers carry the weighty responsibility of ensuring participants are adequately informed and prepared for potential risks. Mitigating these risks requires meticulous planning, proper supervision, and regular safety assessments. Additionally, liability insurance and indemnification offer protection and support in case of unforeseen accidents.
The Impact on Families and Communities
The emotional toll of wrongful death incidents on families and communities cannot be underestimated. These tragedies leave grieving families searching for answers and justice. As a society, we must champion improved safety measures, better education on outdoor safety, and compassionate support for those affected by such losses.