Coronavirus Update
According to the World Health Organization (WHO, 2020) Coronaviruses are a large group of viruses found in humans in certain animals (not household pets). Some of these viruses infect people and can cause illnesses ranging from the common cold to more severe diseases, including Middle East Respiratory Syndrome (MERS) and Severe Acute Respiratory Syndrome (SARS).
Most recently in the news have been reports of a novel coronavirus, now called COVID-19, that was first identified in Wuhan, China in December of 2019.  The outbreak began with a cluster of pneumonia cases. The virus is associated with bats and possibly some other animals sold at a live animal market in Wuhan. The virus quickly spread to family members and healthcare staff.
In a similar way to our own influenza, the virus spreads between people via respiratory droplets from coughing. Older people and those with preexisting conditions appear to be much more susceptible to contracting the virus. Symptoms may include fever, cough, shortness of breath, runny nose, and sore throat, but in the elderly and immunocompromised, it can lead to pneumonia – again, just like our own flu virus. Currently, the virus is affecting 199 countries and territories around the world. While numbers vary wildly depending upon where you look, and numbers change hourly, as of April 9, 2020:
There have been 1,619,495 coronavirus cases worldwide
486,063 are currently infected
1,118,994 are in mild condition (96%)
185 countries worldwide
There have been 97,200 deaths
365,142 have recovered so far (not well tracked, so numbers are much higher)
Unfortunately, the media's response has been to sensationalize and instill fear in news watchers. People have rushed to the stores in droves to hoard toilet paper (the virus does not cause diarrhea), water, canned goods, and other supplies. There has been absolutely no indication that this type of extreme response is necessary. In fact, it can only hurt those who genuinely need supplies and cannot get them when they do.
To put things in perspective, here are the CDC estimates of our own flu virus this season alone:
CDC estimates 28-54 million American have fallen ill with flu illnesses
There have been 231,654 positive specimens tested
23,000-59,000 people have died from the current flu season so far
390,000 -710,000 have been hospitalized during this year's flu season
There have been 144 total pediatric deaths this season
Common sense is certainly the order of the day. Extra precaution with hygiene practices, especially as the weather remains cold and damp in many places is the order of the day. Avoiding close contact with others who may be sick (or have unknowingly been exposed to someone who is) until the threat has passed is certainly wise at this time, particularly for those who are at risk (the elderly, those with upper respiratory conditions, and the immunocompromised).
According to the CDC, as of March 23rd, there are a total of 33,404 cases in the U.S. and 400 total deaths in 54 states, DC, Puerto Rico, Guam, and U.S. Virgin Islands. Data include both confirmed and presumptive cases.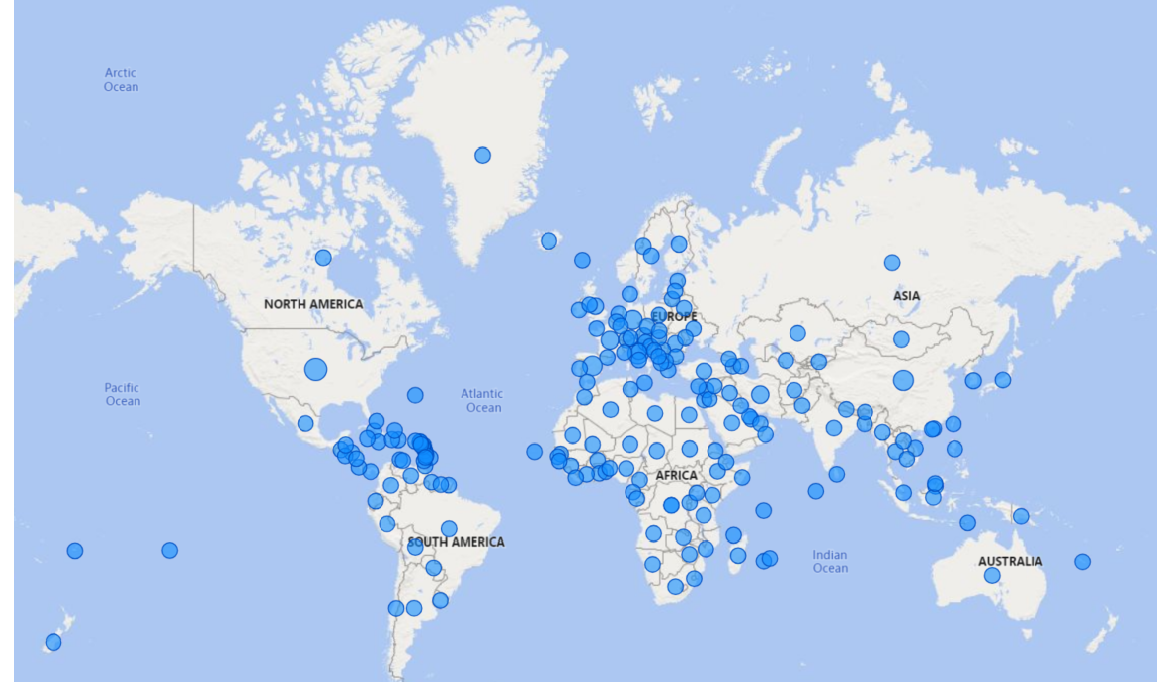 Will a Mask Keep Me from Becoming Infected with the Virus?
According to infectious disease specialists, the answer is No, so don't let the current rush on the stores and others who are price gouging rob you of your hard-earned money. The typical surgical masks sold to the public aren't designed to keep tiny pathogens such as viral particles out. You would have to use a much more tight-fitting and expensive respirator for that. Any benefit would be modest at best.
If you or a loved one is sick, however, and you must be around others, wearing a mask to prevent spreading the droplets produced by coughing, sneezing, etc. is something you should be doing. The best and most considerate course of action is to stay home until you are feeling better and won't spread sickness around.
Most recently, the CDC has recommended that everyone wear some type of face-covering when out in public places in case those not showing symptoms are still spreading the virus. The CDC site has a short video demonstrating how to make your own face covering at home.
For now, avoid foreign travel, thoroughly wash your hands, avoid touching your face with unwashed hands, stay clear of those who are sick, and disinfect frequently touched objects and surfaces as often as you can.
Some Important Statistics
SARS (SARS-CoV, or Severe Acute Respiratory Syndrome), identified in 2002 and was resolved in 2004, was thought to originate in bats and spread to other animals. It affected more than 8000 people in 26 countries. MERS (MERS-CoV – Middle East Respiratory Syndrome) was first reported in Saudi Arabia in 2012 and remains in circulation in camels. There have been 2,494 cases reported and 858 associated deaths in 27 countries.
Novel Coronavirus Compared to Other Major Viruses
Virus
Year
Cases
Deaths
Countries
Ebola
1976
33,577
13,562
  9
SARS
2002
  8,096
     774
29
MERS
2012
  2,494
     858
28
COVID-19
2020
657,915
 30,433

199
Who Has Died From the Virus: A Comparison
Older adults are at the greatest risk for any type of virus because their immune systems are already compromised due to aging. Those who smoke, who have respiratory conditions such as COPD or asthma, those with cardiovascular disease, hypertension, or any other chronic medical condition are also more susceptible to any type of virus.
In the United States, the CDC reported the following for last flu season (the current season is still ongoing). "Estimates" are used because many, many more people contract influenza and do not go to the doctor, so the CDC has no way of knowing those cases exist. Current year estimates appear to be just as high, but the flu season is still ongoing and is expected to continue for several weeks (along with the damp, cold weather).
Table 1: CDC estimated influenza disease burden, by age group – United States, 2018-2019 influenza season
Symptomatic Illnesses
Medical Visits
Hospitalizations
Deaths
Age group
Estimate
Estimate
Estimate
Estimate
0-4 yrs
3,633,104
2,434,180
25,328
266
5-17 yrs
7,663,310
3,984,921
21,012
211
18-49 yrs
11,913,203
4,407,885
66,869
2,450
50-64 yrs
9,238,038
3,972,356
97,967
5,676
65+ yrs
3,073,227
1,721,007
279,384
25,555
All ages
35,520,883
16,520,350
490,561
34,157
| | | |
| --- | --- | --- |
| Age Group | Death Rate Confirmed Cases | Death Rate All Cases |
| | | |
| 80+ yrs | 21.90% | 14.80% |
| 70-79 yrs | | 8.00% |
| 60-69 yrs | | 3.60% |
| 50-59 yrs | | 1.30% |
| 40-49 yrs | | 0.40% |
| 30-39 yrs | | 0.20% |
| 20-29 yrs | | 0.20% |
| 10-19 yrs | | 0.20% |
| 0-9 yrs | | No fatalities |
Symptoms of Both Coronavirus and the Flu
Actually, symptoms are very similar:
Fever
Cough
Shortness of breath
The incubation period ranges from 2 to 14 days, and the virus is transmittable even before those carrying the virus are showing any symptoms. That means carriers could be spreading the virus before they have any suspicion of having it themselves. If you do become sick, especially after traveling or being near someone who has, it is important you share your travel history with your medical provider.
The coronavirus can result in symptoms as mild as a common cold to very severe, including:
Pneumonia
Kidney failure
Death
Treatment
There is no cure for either coronavirus or the common flu. All doctors can do for patients who are infected is to give them supportive care to help relieve their symptoms.
Patients are separated from other family members if they are not needing hospital-stay treatment and recovering at home
Patients and those near them need to use protective equipment (gloves, facemask, etc.)
Elder adults, young children, pregnant women, and people who are immunocompromised or with chronic heart, lung, or kidney conditions are kept isolated from patients
Prevention
There is currently no vaccine to prevent or cure this virus, so prevention is key. Standard hygiene measures are important, especially if you believe you have been exposed to someone who may be sick.
Remain alert for subjective fever, cough, or difficulty breathing
Certain occupational groups (e.g., some healthcare or laboratory personnel, airline crew members) should exercise extreme caution around those who have been exposed to this virus
Protect your health by seeking medical care early if you suspect you have been exposed to the virus
The CDC recommends the following:
Wash your hands often with soap and water for at least 20 seconds, especially after going to the bathroom, before eating, and after blowing your nose, coughing, or sneezing
If soap and water are not readily available, use an alcohol-based hand sanitizer with at least 60% alcohol. Always wash hands with soap and water if hands are visibly dirty
Avoid touching your face (eyes, nose, and mouth) with unwashed hands
Avoid close contact with people who are sick
Stay home when you are sick
Cover your cough or sneeze with a tissue, then throw the tissue in the trash
Clean and disinfect frequently touched objects and surfaces using a regular household cleaning spray or wipe
Do not wear a face mask if you are well
Contact a health care professional from home first if you have symptoms and proceed as instructed
Resources
Baker, S., Frias, L., & Bendix, A. (2020). The Wuhan coronavirus has killed 362 people and infected more than 17,400. Here's everything we know about the outbreak. Business Insider. https://www.businessinsider.com/china-virus-everything-we-know-deadly-2019-ncov-wuhan-spread-2020-1
CDC. (2019). Interim US guidance for risk assessment and public health management of persons with potential 2019 novel coronavirus (2019-nCoV) exposure in travel-associated or community settings. https://www.cdc.gov/coronavirus/2019-ncov/php/risk-assessment.html#foot01
Doyle, D. (2020). Common sense will do more for fighting coronavirus than buying all the toilet paper. https://www.edmonsonvoice.com/-news/common-sense-will-do-more-for-fighting-coronavirus-than-buying-all-the-toilet-paper
Maragakis, L.L. (2020). Coronavirus disease 2019 vs the flu. https://www.hopkinsmedicine.org/health/conditions-and-diseases/coronavirus/coronavirus-disease-2019-vs-the-flu
Van Beusekom, M. (2020). Old age, sepsis tied to poor COVID-19 outcomes, death. http://www.cidrap.umn.edu/news-perspective/2020/03/old-age-sepsis-tied-poor-covid-19-outcomes-death
Wikipedia. (2020). 2019-20 coronavirus pandemic. https://en.wikipedia.org/wiki/2019%E2%80%9320_coronavirus_pandemic
World Health Organization. (2020). Updated WHO advice for international traffic in relation to the outbreak of the novel coronavirus 2019-nCoV. https://www.who.int/ith/2019-nCoV_advice_for_international_traffic/en/
Worldometer. (2020). Wuhan coronavirus outbreak. https://www.worldometers.info/coronavirus/
Yasinski, E. (2020). Scientists zero in on the novel coronavirus' incubation period. https://www.the-scientist.com/news-opinion/scientists-zero-in-on-the-novel-coronavirus-incubation-period–67045