According to the World Health Organization (WHO, 2020) Coronaviruses are a large group of viruses found in both animals and humans. Some of these viruses infect people and can cause illnesses ranging from the common cold to much more severe diseases, including Middle East Respiratory Syndrome (MERS) and Severe Acute Respiratory Syndrome (SARS).
Most recently in the news have been reports of a novel coronavirus, now called 2019-nCoV, that was first identified in Wuhan, China on December 31, 2019.  The outbreak began with a cluster of pneumonia cases. Those patients were associated with seafood and live animal market in Wuhan. The virus quickly spread to family members and healthcare staff.
This is an extremely serious and highly contagious virus that in less than 2 months is affecting 28 countries and is still spreading rapidly. As of February 12, 2020:
There are 60,414 coronavirus cases
8,043 of these are patients in critical condition
There have been 1,370 deaths
Only 6,295 have recovered so far
While it doesn't appear to be as deadly as the SARS virus in 2002-2003 it already has exceeded the number of people infected partly for that reason and because the incubation period is longer.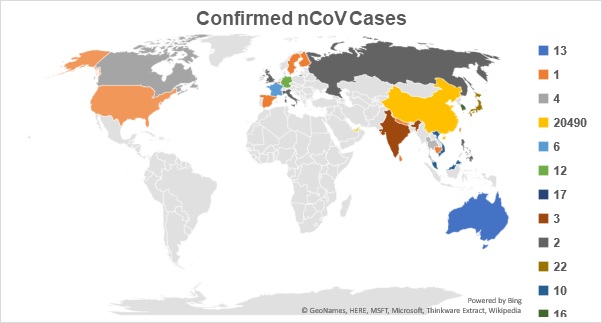 SARS (SARS-CoV, or Severe Acute Respiratory Syndrome), identified in 2002 and was resolved in 2004, was thought to originate in bats and spread to other animals. It affected more than 8000 people in 26 countries. MERS (MERS-CoV – Middle East Respiratory Syndrome) was first reported in Saudi Arabia in 2012 and remains in circulation in camels. There have been 2,494 cases reported and 858 associated deaths in 27 countries.
Currently, the exact source of the novel coronavirus (2019-nCoV) is unknown but public health officials are working to identify the source. There have already been over 60,000 infected and 1,300 deaths in at least 28 countries. Numbers change daily. There have also been cases reported that were a result of human-to-human transmission. Public health officials are clearly concerned and are monitoring the epidemiology of the outbreak.
Novel Coronavirus Compared to Other Major Viruses
Virus
Year
Cases
Deaths
Countries
Ebola
1976
33,577
13,562
  9
SARS
2002
  8,096
     774
29
MERS
2012
  2,494
     858
28
2019-nCoV
2020
60,414
     1,370
28
Symptoms of Coronavirus
Fever
Cough
Sore throat
Shortness of breath
The incubation period ranges from 2 to 14 days, and the virus is transmittable even before those carrying the virus are showing any symptoms. That means carriers could be spreading the virus before they have any suspicion of having it themselves. If you do become sick, especially after traveling or being near someone who has, it is important you share your travel history with your medical provider.
The coronavirus can result in symptoms as mild as a common cold to very severe, including:
Pneumonia
Kidney failure
Death
Treatment
The coronavirus cannot be cured. All doctors can do for patients who are infected is to give them supportive care to help relieve their symptoms.
Patients are separated from other family members if they are not needing hospital-stay treatment and recovering at home
Patients and those near them need to use protective equipment (gloves, facemask, etc.)
Elder adults, young children, pregnant women, and people who are immunocompromised or with chronic heart, lung, or kidney conditions are kept isolated from patients
Prevention
The coronavirus is an extremely serious health threat. There is currently no vaccine to prevent or cure this virus, so prevention is key. Standard hygiene measures are important, especially if you believe you have been exposed to someone who may be sick.
Remain alert for subjective fever, cough, or difficulty breathing
Certain occupational groups (e.g., some healthcare or laboratory personnel, airline crew members) should exercise extreme caution around those who have been exposed to this virus
Protect your health by seeking medical care early if you suspect you have been exposed to 2019-nCoV
The CDC recommends the following:
Wash your hands often with soap and water for at least 20 seconds, especially after going to the bathroom, before eating, and after blowing your nose, coughing, or sneezing
If soap and water are not readily available, use an alcohol-based hand sanitizer with at least 60% alcohol. Always wash hands with soap and water if hands are visibly dirty
Avoid touching your eyes, nose, and mouth with unwashed hands
Avoid close contact with people who are sick
Stay home when you are sick
Cover your cough or sneeze with a tissue, then throw the tissue in the trash
Clean and disinfect frequently touched objects and surfaces using a regular household cleaning spray or wipe
Resources
Baker, S., Frias, L., & Bendix, A. (2020). The Wuhan coronavirus has killed 362 people and infected more than 17,400. Here's everything we know about the outbreak. Business Insider. https://www.businessinsider.com/china-virus-everything-we-know-deadly-2019-ncov-wuhan-spread-2020-1
CDC. (2019). Interim US guidance for risk assessment and public health management of persons with potential 2019 novel coronavirus (2019-nCoV) exposure in travel-associated or community settings. https://www.cdc.gov/coronavirus/2019-ncov/php/risk-assessment.html#foot01
World Health Organization. (2020). Updated WHO advice for international traffic in relation to the outbreak of the novel coronavirus 2019-nCoV. https://www.who.int/ith/2019-nCoV_advice_for_international_traffic/en/
Worldometer. (2020). Wuhan coronavirus outbreak. https://www.worldometers.info/coronavirus/
Yasinski, E. (2020). Scientists zero in on the novel coronavirus' incubation period. https://www.the-scientist.com/news-opinion/scientists-zero-in-on-the-novel-coronavirus-incubation-period–67045