The state of Connecticut is known for its charming towns and scenic beauty, making walking as a means of transportation especially appealing. Unfortunately, many areas in Connecticut are dangerous for the common pedestrian. According to data collected by the Governor's Highway Safety Association, pedestrian deaths have increased 53% since 2009. 
A new study conducted by Jacobs & Jacobs Injury Lawyers out of New Haven, CT, finds that between the years of 2017-2021, there were 254 fatal pedestrian injuries. Let's take a deeper dive into the study and uncover some of the most important findings. 
Top 5 Cities/Towns Most Affected by Pedestrian Collisions 
Although many areas in Connecticut were affected over the past few years, these 5 stand out: 
New Haven – 681 crashes 

Bridgeport – 548 crashes

Hartford – 546 crashes

Waterbury – 464 crashes

Stamford – 409 crashes 
It is important to note that while these 5 towns were the most affected by pedestrian crashes, they are also the 5 most populated towns in Connecticut.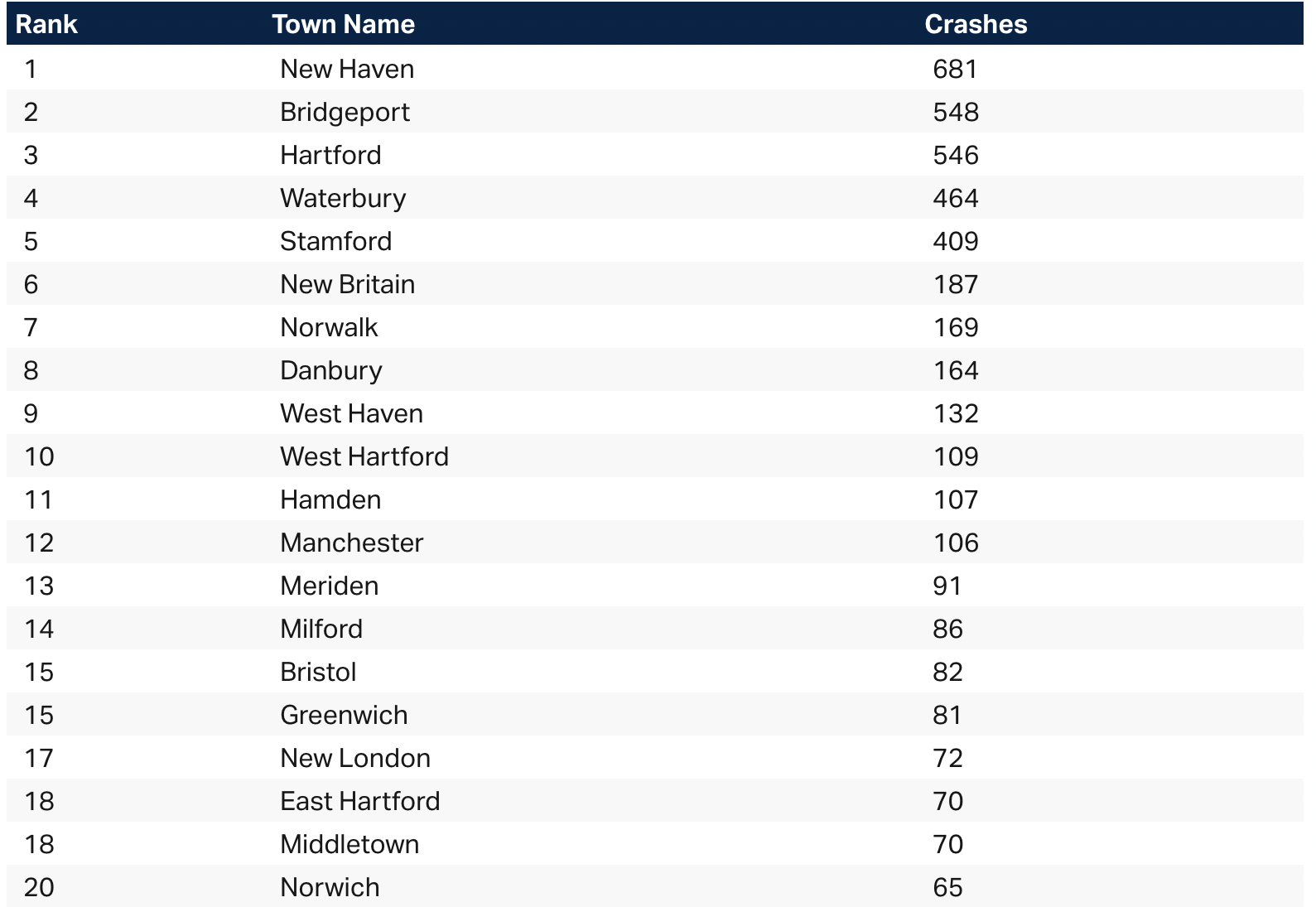 Fatal Pedestrian Injuries
According to the data provided by the study, the largest portion of pedestrian injuries in Connecticut are deemed as non-fatal. However, there are unfortunately still injuries that have resulted in death for pedestrians in these areas. 
The city in Connecticut with the most pedestrian accident-related deaths is Hartford. With 26 pedestrian fatalities between 2016 and 2020, coming just slightly above New Haven and Bridgeport, with 16 and 17 pedestrian fatalities respectively. 
Stamford, New London, and Waterbury are other areas of concern. 
Top 3 Most Affected Roadways
The top 3 roadways which see the largest amount of pedestrian collisions are all highways: 
1-N (Stamford) – 44 crashes

10-N (Hamden) – 42 crashes

130-E (Bridgeport) – 41 crashes 
It can be inferred that due to generally higher speeds on highways, this has led to a higher amount of pedestrian crashes. 
Addressing the Pedestrian Safety Issue
So, how can Connecticut attempt to minimize the amount of pedestrian accidents and deaths? Some potential solutions might include: 
Pedestrian Safety Education and Awareness: Decreasing these accidents starts with the public acknowledging the issue and learning about how they can do their part. From safer driving practices, to taking extra safety measures when walking on streets, these sorts of efforts can go a long way in preventing accidents. 

Enforcing Traffic Laws: Holding drivers accountable for breaking the law on the road is a critical first step in minimizing the pedestrian accident issue. Connecticut can increase police presence in order to stop reckless driving behaviors, and ensure that accidents are stopped at the source – dangerous driving. 

Infrastructure Improvement: Creating cities and towns with more accessible and pedestrian-friendly features is extremely important. Safer sidewalks, roads, and road signage is paramount for pedestrian safety. 
Takeaways
This study shows that pedestrian safety in Connecticut is an issue that should be addressed as soon as possible. By taking the necessary steps to improve pedestrian safety, the injuries and deaths seen in the past couple of years can hopefully be minimized.