A recent study published by Sessions & Kimball, an employee rights law firm, examined workplace disability discrimination claims in the United States. The data shows that of all discrimination types, Americans with Disabilities Act (ADA) claims are one of the most common claims filed. In 2020, the U.S. Equal Employment Opportunity Commission (EEOC) received 24,324 disability discrimination claims, more than any other type. The second highest number of claims related to race, with 22,064 claims filed.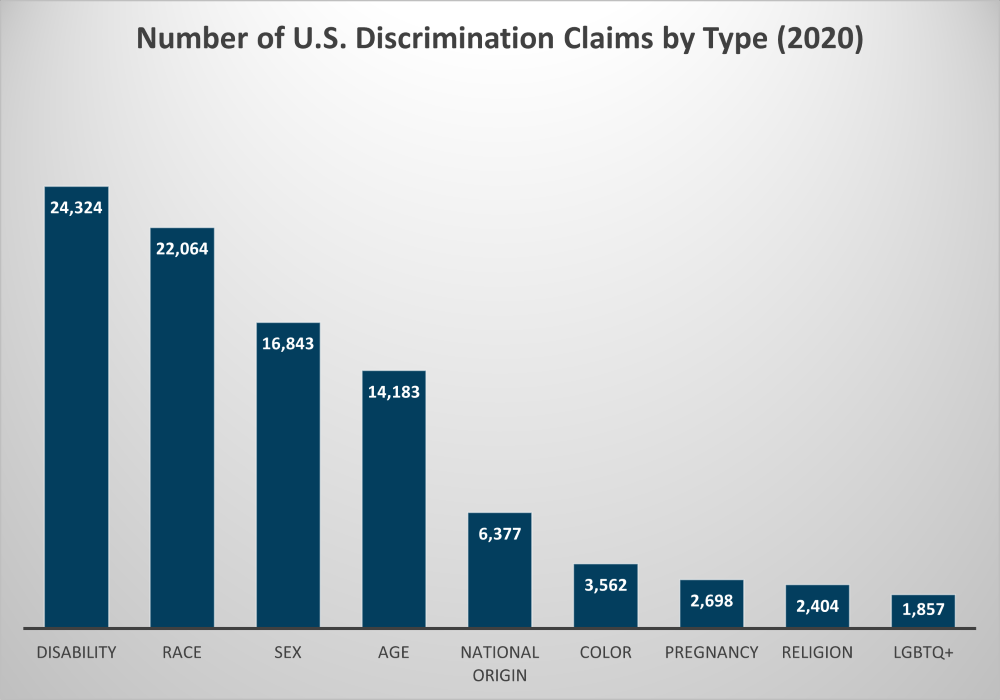 Some of the disabilities that were frequently cited on discrimination claims in 2020 included depression, anxiety, back impairment, PTSD, and diabetes. In terms of the type of discrimination experienced, the two most reported issues were wrongful termination and not receiving reasonable accommodations.
What are Reasonable Accommodations?
Reasonable accommodations can refer to any change to a job position that is made to accommodate a disabled employee. Disabled employees are privy to 3 forms of accommodation: the application and hiring process, the way the job is performed, and employment benefits. 
If the job applicant is qualified to perform the job but they have a disability that requires some modifications, those modifications must be made. Employees with disabilities have a right to receive equal employment opportunities and to receive accommodations that allow them to perform the essential functions of the job. Employers are required to provide reasonable accommodations under ADA law.
What Type of Accommodations are Unreasonable?
Employers are not required to provide reasonable accommodations if they will cause "undue hardship." This refers to accommodations that would be extremely costly, disruptive, time consuming, or would in some other way negatively impact the business. If the only barrier to the accommodation is cost, the employee may be able to utilize funds from an outside resource. There may be state or federal tax credits to offset the costs, so disabled employees should try contacting a vocational rehabilitation agency for help. The employee requesting accommodation must be also given the option to pay for their own accommodation, if it is determined to be an undue hardship on the company.
Examples of Reasonable Accommodations
Below are some examples of the types of accommodations that employees have a right to under the ADA.
Installing a ramp for an employee who uses a wheelchair

Modifying a work schedule to allow for medical appointments

Changing a work space such as the layout, desk, or chair

Assuring that technology and training materials are suitable for a deaf or blind employee

Modifying office policies to allow for a service animal
Even if you aren't sure about what type of accommodation you need, it is the responsibility of your employer to work with you to identify one.
Requesting Accommodations at Work
You should disclose your disability as soon as you can, ideally during the application and hiring process. The sooner that you can request accommodations from your employer, the sooner they can start working on them. While your employer can ask you questions about how your disability will affect your ability to perform the job, they cannot ask about the nature or severity of your disability.
If your employer refuses to make reasonable accommodations, or if they are discriminating against you because of your disability, you need to file a claim with the EEOC.