Workplace illnesses and injuries can arise unexpectedly and leave victims facing an uncertain future of mounting medical expenses. In most cases, Connecticut injuries and illnesses that can be definitively traced back to one's place of employment are covered under the state's workers' compensation laws. Workers' compensation (or workers' comp) covers the injured employee's medical expenses and replaces a set portion of the wages they are unable to earn.
To better understand how workers in Connecticut are impacted by workplace illnesses and accidents, we took a closer look at a recent workers' comp study put together by Jacobs & Jacobs.
What Kind of Injuries & Illnesses Affect Connecticut Employees?
Some workplace injuries cause immediate harm to an employee. For example, a handyman may cut their arm when a defective saw malfunctions as they're working on a house restoration. Other afflictions can take weeks, months, or even years to cause noticeable symptoms. Consider a worker that has been exposed to asbestos, a potentially cancer-causing mineral that was used in construction for years due to its resistance to corrosion and heat. The worker may be diagnosed with advanced mesothelioma or lung cancer after prolonged exposure to the harmful substance.
An occupational injury is any type of bodily harm suffered due to an employee's work. They may be caused by harmful aerosols, blood-borne pathogens, hazardous chemicals, exposure to harmful levels of radiation, or other hazards (defective work equipment, extreme heat or cold temperatures, foreseeable animal attacks, etc.).
Occupational illnesses encompass all sicknesses that can be tracked to a work environment or condition. They may be caused or worsened by insufficient workplace sanitation, dangerous chemicals, poor air quality or ventilation, or other otherwise-avoidable health risks.
In comparison to an occupational illness, occupational diseases are chronic conditions that occur due to the employee's environment or working conditions. Occupational diseases are oftentimes detected because of their unusual prevalence amongst a workplace population.
Occupational Diseases Impacting Connecticut Workers
Largely due to the ongoing Covid-19 pandemic, recent data on workplace injuries and illnesses has not yet been fully compiled and peer-reviewed. We can look at statistics from as recent as 2019 to see how Connecticut workers are impacted by occupational diseases. According to the Connecticut Department of Labor (CTDOL) and the Bureau of Labor Statistics (BLS), workers across the state suffered approximately 1,700 illnesses during 2019. This figure is roughly 200 less instances of occupational diseases as those reported in 2018. To preserve the integrity of the initial dataset, we defined musculoskeletal disorders as "other," as BLS does.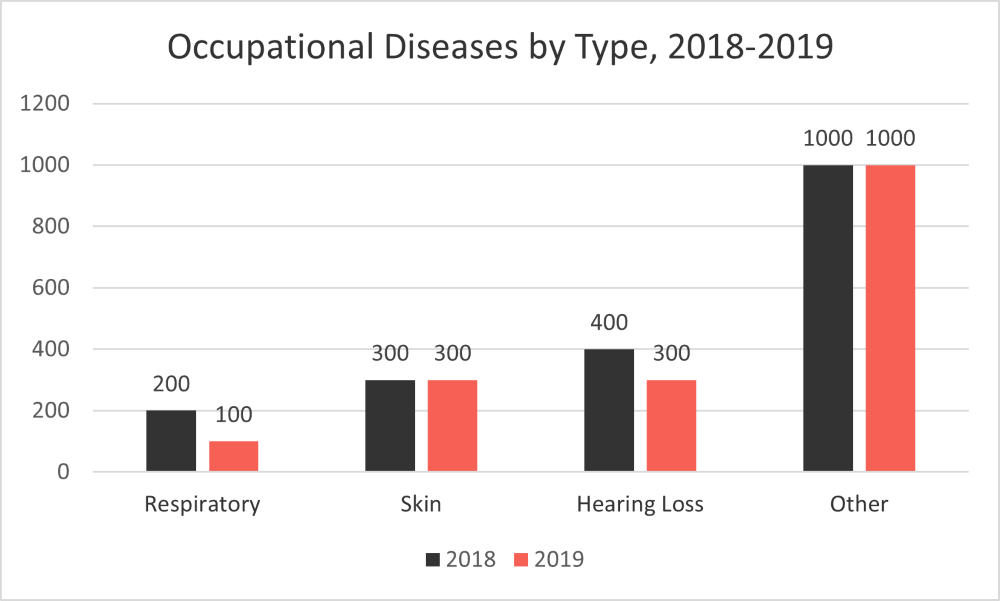 Infectious Diseases Harming Connecticut Employees
While occupational diseases decreased by approximately 200 from 2018 to 2019, exposure to and contraction of infectious diseases in Connecticut workspaces increased by 9%. 81% of statewide infectious disease reports came out of exposure to bloodborne pathogens.
In recent years, courts won a major victory for injured workers when they expanded the legal definition of "compensable disease" to include exposure. Under this clarified legal definition, workers who have been exposed to diseases may receive treatment covered under Connecticut workers' comp. Now, instead of requiring workers to prove that their first report of injury was when they developed symptoms, they must simply show exposure.
The graph below shows the exposure to or contraction of infectious diseases amongst Connecticut workplaces in 2018 and 2019. Chicken pox, measles, and whooping cough are grouped together into one column.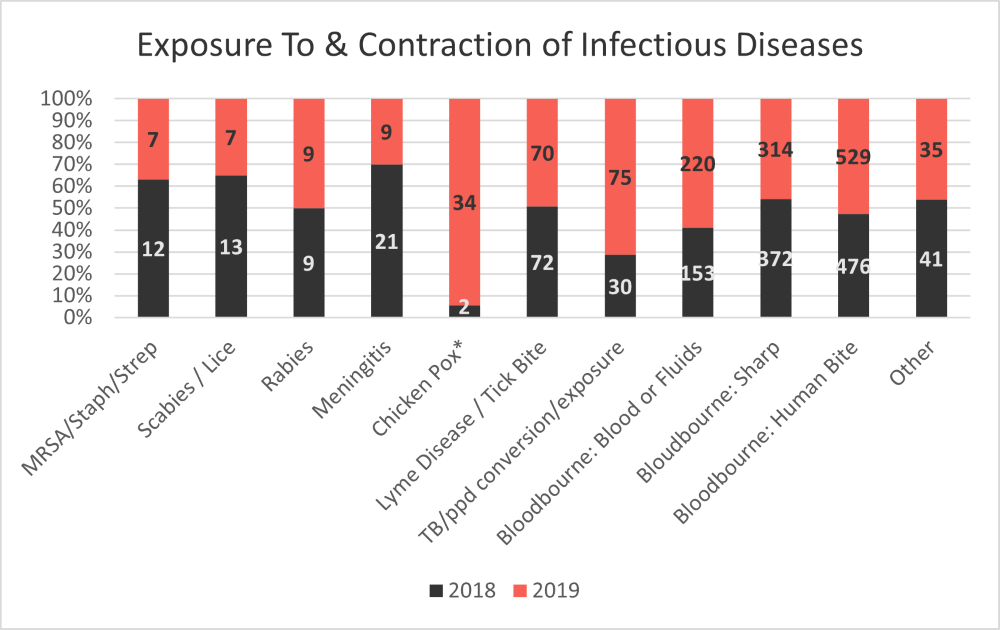 Other Workplace Injuries & Complaints
Workplace illnesses and injuries can arise under many conditions and cause significant, long-lasting harm to the victim. Not all injuries arise due to a serious accident. They may be caused by allergies, exposure to a dangerous environment, or even a workplace that is too hot or too cold. We've tracked reported "miscellaneous" injuries from 2018 and 2019 in the graph below. For clarification, "dizziness, fainting, and seizures" are grouped into one category.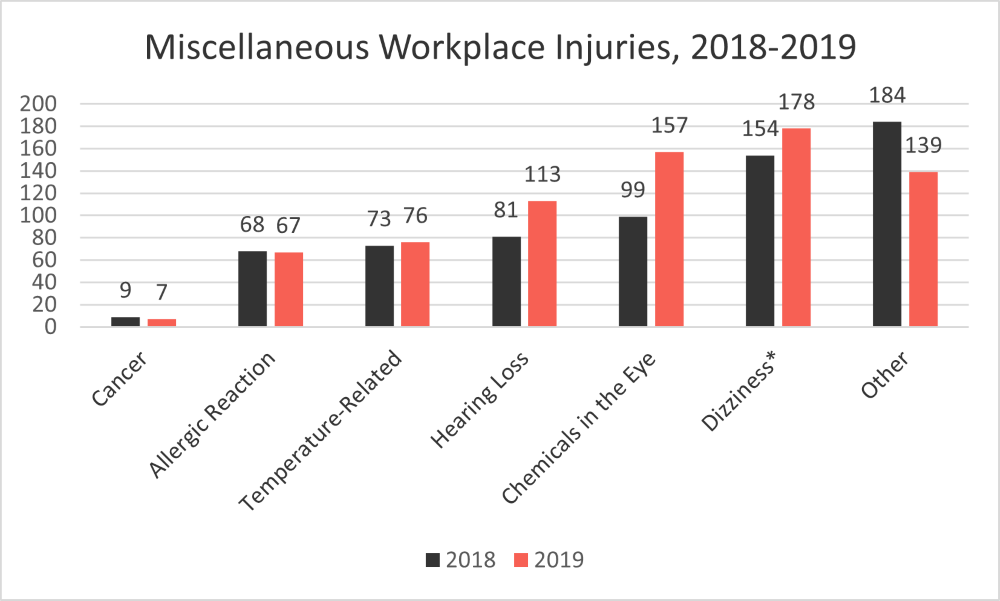 What Should You Do After a Workplace Injury?
If you become injured or ill on the job, it's essential to document the circumstances of the situation. Try and follow these steps, if possible:
As soon as you are injured or aware of symptoms, depending on the situation, report the incident to a manager, supervisor, or other responsible party.
Document the injury or your symptoms. After an accident, take picture of the scene, any wounds you or another person suffered, and other evidence. If there were witnesses to the injury, take their contact information. After a doctor's appointment or trip to a hospital, save the paperwork for your visit and treatments received.
Seek medical care promptly. Don't wait for your symptoms to go away.
Follow the recommendations of a trusted medical professional. If you do not adhere to your treatment plan, you may face termination or harm the chances of a successful injury lawsuit.
Complete your company's incident report paperwork.
Speak with an experienced workers' comp lawyer.