With twenty-seven locations across the United States, Canada, and Mexico, Six Flags amusement and water parks are popular destinations for people across the world. Implementing themes from American history, the DC Universe, and traditional amusement park offerings, a Six Flags park is sure to have attractions that appeal to every visitor. However, despite their family-friendly venues and plethora of locations across North America, Six Flags parks have had their fair share of accidents.
Since the first Six Flags park opened in 1961, there have been sixty-one deaths at amusement and water parks that were or are currently owned by the franchise. An in-depth study on Six Flags fatalities recently published by The Doan Law Firm identifies the cause of each incident. Although many of these tragic deaths were caused by pre-existing medical conditions, others occurred due to defective ride designs or the negligence of theme park employees. Read on to learn more about deadly accidents occurring at Six Flags parks.
Which Six Flags Parks Have Had the Most Deadly Accidents?
Altogether, there are eighteen current or former Six Flags amusement or water parks that had at least one accident resulting in a minimum of one fatality. A breakdown of individual fatality-causing incidents by park is included in the graph below, with parks in the Six Flags Hurricane Harbor franchise being abbreviated as "HH." 
The park with the highest number of individual accidents resulting in fatalities was Magic Mountain, with seven incidents occurring during the venue's operation. In contrast, six Six Flags amusement and water parks have not had any recorded fatal incidents, including: Frontier City, Six Flags White Water, Six Flags Fiesta Texas, Six Flags Hurricane Harbor Rockford, Six Flags México, and Six Flags Great Escape. 
Deaths at Six Flags by Month
Perhaps not unsurprisingly, the majority of deaths at Six Flags parks occurred during the summertime. Many of the franchise's venues are seasonal, operating only during a specific range of summer months. We noted that:
No deaths were reported in the months of January, October, or November

The month with the highest number of reported fatalities (17) between all Six Flags parks was July

There were more reported deaths in the month of July than in February, March, April, September, and December combined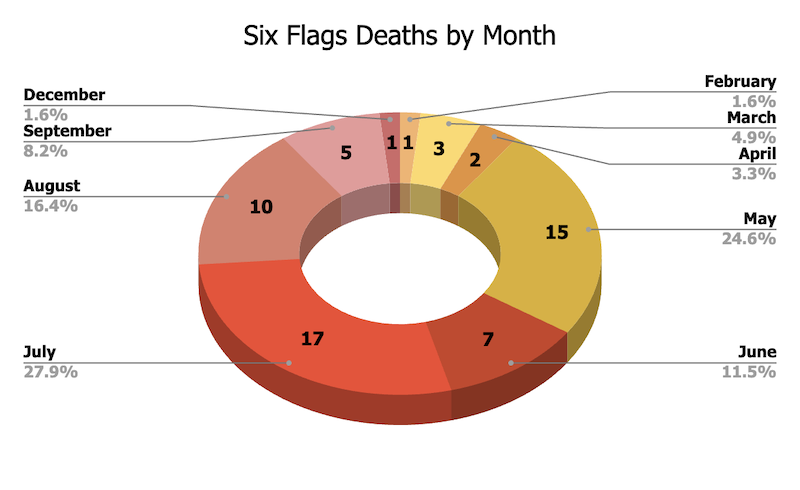 Which Six Flags Parks Have Had the Most Deaths?
The total number of deaths occurring at all former and current Six Flags parks, as of this article's writing, is sixty-one. A visual depiction of the five franchise locations with the highest numbers of fatalities is included below. As of the present day, the park with the most deaths is Six Flags Great Adventure, at thirteen. Despite having less individual deadly accidents than Six Flags Magic Mountain, more fatalities have occurred at or due to events at Great Adventure. In the following section, we'll discuss some of the individual rides and attractions that caused fatal injuries.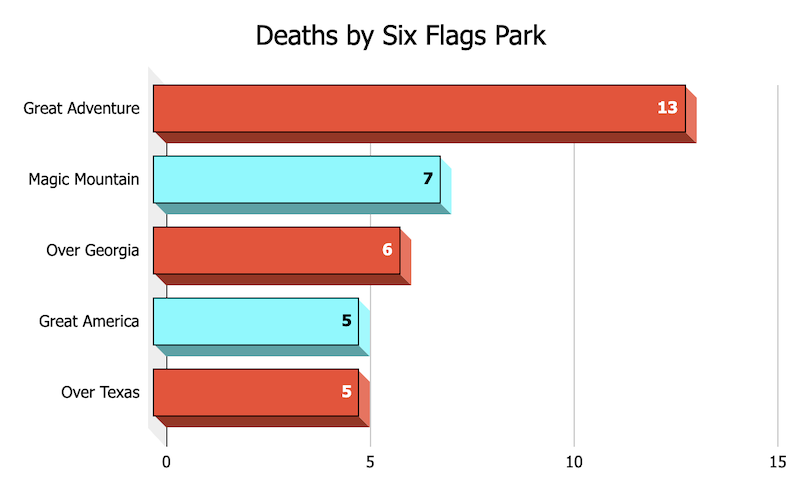 Which Six Flags Rides & Attractions Caused the Most Deaths?
Theme parks have more hidden hazards than the average person might expect. Inherently dangerous rides, defective attraction parts, inattentive park employees, and other external factors can put lives at serious risk. Even environmental factors can be cause for concern — time spent standing in lines or on a rollercoaster that gets stuck can increase the risk of guests becoming dehydrated or suffering harm from a pre-existing condition. In this section, we discuss some of the deadliest Six Flags rides and attractions to date.
The Haunted Castle
The Haunted Castle was an attraction located at Six Flags Great Adventure in New Jersey. The attraction was initially tested out on a small scale in 1978, before being built out into a seventeen-trailer rendition in 1979. The Haunted Castle was initially intended to be a seasonal attraction, but its resounding popularity amongst park visitors quickly had it become one of the park's permanent fixtures. 
On May 11th, 1984, a fire broke out inside the Haunted Castle. The flames were fanned by the building's air conditioning, quickly engulfing the entire attraction. Just under thirty guests and employees were in the attraction during the fire, and eight teenage victims became disoriented in the dark and succumbed to smoke inhalation. An investigation of the attraction's scorched remnants revealed that it had been in violation of a dozen fire codes. There were no smoke detectors or fire sprinklers within the interlocked trailers. 
Six Flags Great Adventure was sued for aggravated manslaughter in the aftermath of the tragic incident, but was found "not guilty" on a legal technicality. Since the Haunted Castle had initially been classified as a temporary structure, it was not subject to many of the strict rules applicable to other buildings. Six Flags nonetheless paid out millions in civil damages to the families of victims that lost their lives in the blaze. 
Rolling Thunder
Rolling Thunder was a wooden roller coaster that was in operation at Six Flags Great Adventure from 1979 to 2013. Over the course of the ride's operation, two separate fatal accidents occurred approximately two weeks apart from one another. 
On August 16th, 1981, a park employee fell to his death from the wooden roller coaster during a routine test ride. The ride was promptly closed and investigated to determine whether any underlying safety flaws had led to the unfortunate incident. They determined that the ride was operating normally. Both investigators and park representatives indicated that the employee may not have applied his safety restraints correctly. 
Just a few weeks later on August 29th, 1981, a woman was found unresponsive in her seat when the Rolling Thunder train returned to the station. An autopsy realized that the victim had choked as a result of the aspiration of gastric contents. This medical condition occurs when food or fluids go into a person's windpipe or lungs instead of being swallowed. The victim had no known pre-existing medical conditions that would have increased her risk of choking. 
Revolution
Revolution was the first modern rollercoaster to feature a vertical loop. The ride originally opened in 1976 and remains in operation today, though it was refurbished and relaunched as "The New Revolution" in 2016. Two deaths have occurred on this ride, during separate incidents nearly twenty years apart. 
On May 30th, 1996, a park employee was killed when she was struck by the attraction's train. The victim stepped onto the tracks in front of the attraction's loading area, where a five-car train was idling in preparation for the final element of the ride. She lost her balance and fell into a shallow pit below the ride, where she was then struck by the train at approximately four miles-per-hour. The victim was declared dead at the scene of the accident with massive injuries. 
On June 13th, 2015, a 10-year-old girl was found unconscious but breathing on the Revolution roller coaster. She was promptly airlifted to a hospital but was declared dead the following day. The family declined an autopsy due to "religious preferences" and later filed a wrongful death lawsuit against the theme park. They alleged that defects in the ride's design and delayed medical care resulted in a preventable death. 
Batman: The Ride
Batman: The Ride is an inverted roller coaster inspired by the character of Batman from the DC Universe. When it first opened in 1992, the ride was the first inverted roller coaster. Batman: The Ride is still in use today and many parks have made copycat rides. A pair of deaths have occurred due to the variation found at Six Flags Over Georgia.
On May 26th, 2002, a groundskeeper who was walking underneath the ride was struck in the head by the leg of one of the roller coaster's passengers. The female passenger was hospitalized with leg injuries and released, but the park employee did not survive the impact. During an incident investigation, officials were unable to determine why the man had been underneath the coaster in a no-access area of the park.
A second fatal incident involving Batman: The Ride at Six Flags Over Georgia occurred on June 28th, 2008. Two men jumped over a pair of fences meant to prevent access to the space below the attraction. Eyewitness statements tell a conflicting story — some accounts state that the men were attempting to retrieve a lost hat and others indicate that they were trying to re-enter the park after lunch. One of the young men was struck and decapitated by the attraction's train, while the second person was unharmed. 
Hurricane Harbor (Six Flags Over Texas)
Two deaths have occurred at the Hurricane Harbor location at Six Flags Over Texas. In the first case, a grandmother was found unresponsive and floating in the park's lazy river on September 5th, 2011. When the victim was discovered, park employees removed her from the water and began CPR. In a wrongful death lawsuit filed by the victim's family, it is alleged that the park botched lifesaving attempts. The lawsuit alleges that treatment was not delivered quickly enough, a faulty defibrillator was brought to the scene, and CPR was not performed correctly or with adequate equipment. 
A second fatal incident happened on June 23rd, 2021. A fight broke out between two young groups of park visitors, possibly over a case of mistaken identity. What began as a brawl escalated into a shooting, and an off-duty police officer at the scene found a single victim that had been shot. The victim died from his injuries and an 18-year-old man was later arrested in connection with the killing. 
Confronting the Reality of Amusement Park Accidents
Any death occurring at an amusement park is a terrible tragedy. We go to amusement parks to enjoy quality time with friends and family, not to confront the terrible reality of a lethal accident. In many instances, deaths at amusement parks like Disneyland or Six Flags locations could have been prevented by safer attractions, more attentive park employees, and higher maintenance standards. Hopefully, modern safety standards and ride designs will reduce the risks to amusement park visitors of the modern era and future times.