Disneyland Resort in California is one of the most popular amusement parks in the country, following closely behind Disney World in Orlando. Disneyland was the first of the Disney parks to open, and has one of the largest cumulative attendance records in the world. Since its opening in 1955, there have been 26 deaths that have occurred at Disneyland (or occurred later from an injury that was sustained there).
A new data analysis from DiMarco | Araujo | Montevideo examines each of these fatal Disney incidents including when it happened, what caused it, and what the legal follow-up was. A large portion of the deaths were from natural causes, but some were due to the park's negligence. Keep reading below to learn more about those incidents.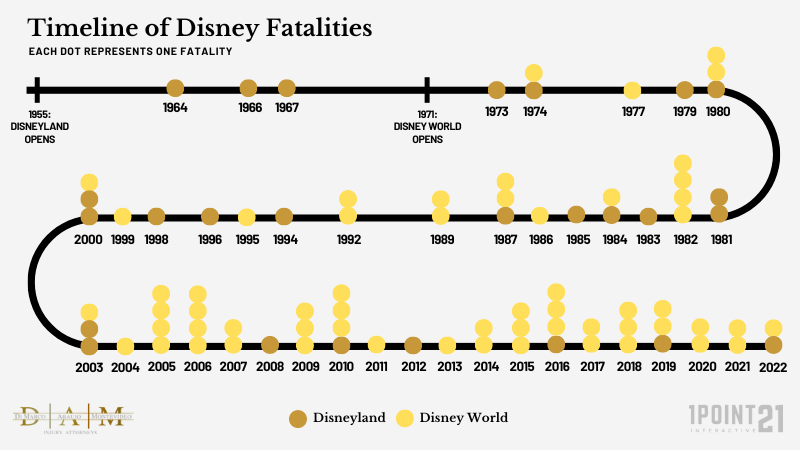 Which Disneyland Rides Have Been Responsible For Deaths?
Out of the twenty six fatalities that have occurred at Disneyland California, below are the seven incidents in which a park guest died because of a ride.
American Sings / Carousel of Progress
A ride named America Sings, formerly called Carousel of Progress, had only been open for a week on 7/8/1974 when 18-year-old Deborah Gail Stone died. She had just graduated from Santa Ana high school and was working at Disneyland for the summer. During an intermission of the ride, she slipped or jumped between a revolving wall and a platform within the ride. No one knows whether she was not fully trained or whether it was an accident, but she was crushed between the wall and platform. The ride shut down for the next two days while the scene was cleaned up. Disney installed warning lights and breakaway walls after the incident.
Big Thunder Mountain Railroad
This popular roller coaster unfortunately derailed on September 5, 2003. There was a mechanical failure due to improper maintenance, leaving wheel fasteners untightened and not up to specifications. As the train entered a tunnel, the axle came loose and jammed, causing the locomotive to fly up in the air and hit the ceiling of the tunnel. It then fell on top of the first passenger car, injuring ten riders and killing one 22-year-old man. His cause of death was blunt force trauma and internal bleeding.
Matterhorn
In January of 1984, a 48-year-old woman was riding the Matterhorn bobsled when she was thrown from the ride. The next oncoming bobsled struck the woman and decapitated her, killing her instantly. After investigating further, it was discovered that her seatbelt was not buckled. It is unknown whether she unbuckled herself or if it malfunctioned.
PeopleMover
Two deaths happened on the PeopleMover before it was shut down in August 1995. The first incident was in August of 1967, after just one month of the ride being open. A 16-year-old boy was jumping between two moving cars when the ride passed through a tunnel and he stumbled and fell onto the track. The boy was crushed under an oncoming train of cars and dragged for a few hundred feet before the ride was stopped.
Then again in the summer of 1980, an 18-year-old was jumping between moving cars and died in the same way. In the SuperSpeed tunnel, he fell and was crushed and dragged under the ride.
Roger Rabbit's Car Toon Spin
In October of 2000, a 4-year-old boy fell out of the car toon spin ride and was dragged under the car, causing serious internal injuries, brain damage, and cardiac arrest. He eventually died from these injuries nine years later. It was ruled that Disney was liable for this death because they failed to call for medical help in a timely manner.
Sailing Ship Columbia 
In December of 1998, an incident occurred on the Sailing Ship Columbia that injured two people and killed one. A metal cleat became loose from the ship and flew through the air, striking a 33-year-old man in the head. He was taken to the hospital and died two days later from blunt force trauma. In the investigation, it was discovered that financial corners were cut when replacing the tie line, and the new one broke. OSHA also fined Disney for not properly training the employee who was running the ride.