Florida is known for its beautiful beaches, amusement parks, and sunny climate. For many, Florida is a vacation destination that offers a lot to do and to see across the sprawling state. 
While Florida is typically viewed as a safe and fun destination, Florida roads are anything but. After years of decline, fatal crashes in Florida have been steadily rising since 2011. 
Due to this phenomena, a study was conducted to help identify where these crashes occur. Vanguard Attorneys in Tampa, Florida, collaborated with data visualization company 1point21Interactive to create an interactive study that examines over twenty years of fatal crash data to identify the deadliest roads in the state.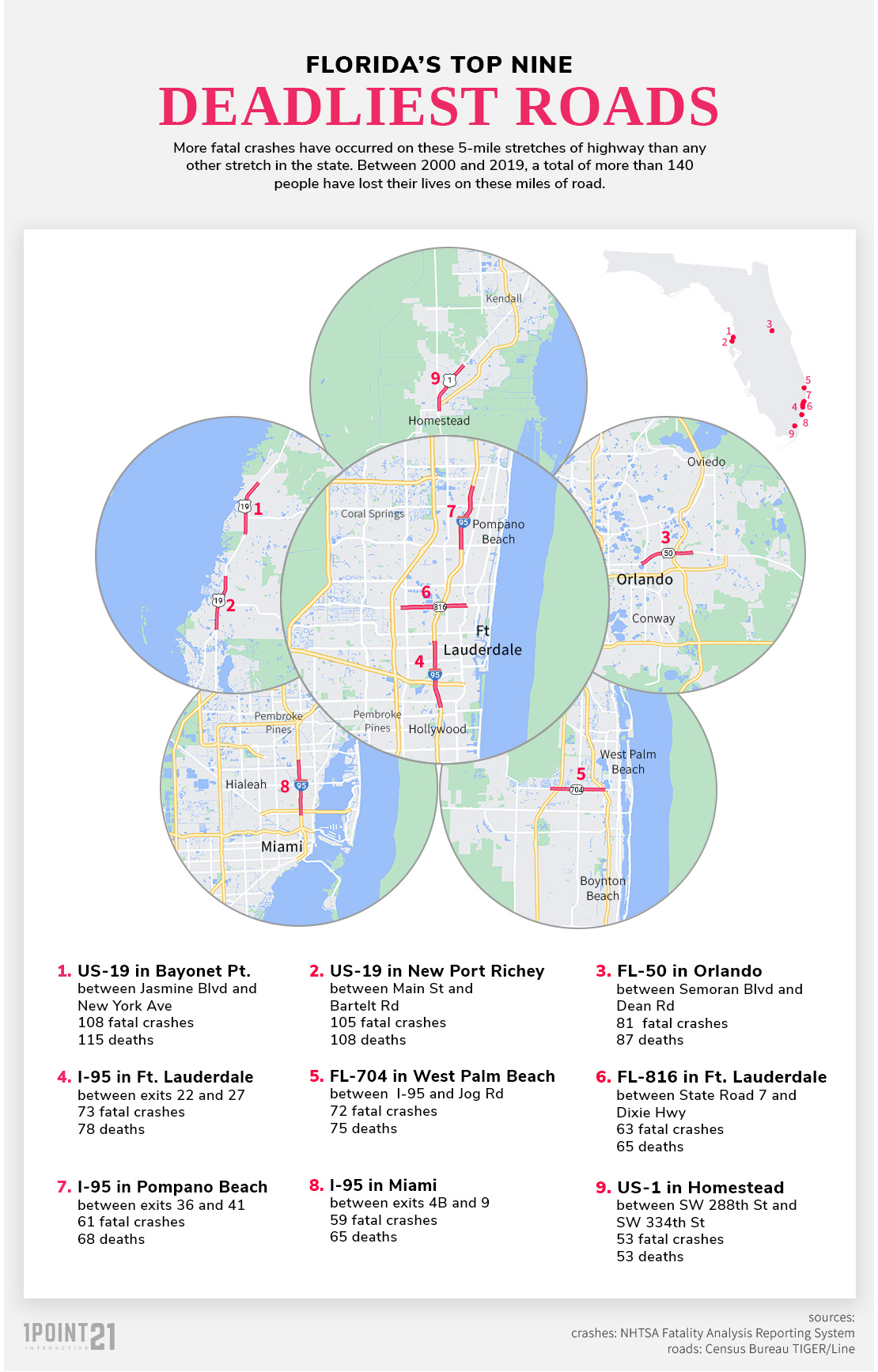 Top 5 Deadliest Roads in Florida
The study period utilized data spanning from 2000 to 2019 to identify the top five most deadly roads in Florida. The total number of fatal crashes amounted to 54,402, claiming the lives of almost 59,000 people. 
The top 5 deadliest roads are as follows:
US-19 in Bayonet Point: From Jasmine Blvd to New York Ave
US-19 in New Port Richey: From Main St to Bartelt Rd
FL-50 in Orlando: From Semoran Blvd to Dean Rd
I-95 in Ft. Lauderdale: From exit 22 through 27
FL-704 in West Palm Beach: From the I-95 interchange to Jog Rd
The top five roads were responsible for a total of 439 crashes and 463 fatalities alone. While many roads in Florida see significant traffic volume and crashes, the roads listed above are responsible for the highest number of fatal collisions and traffic deaths in the entire state. 
Why is this Study Important?
Analyzing fatal crash data can help in a myriad of ways. By identifying the most dangerous roads, we can look at these areas with a more critical lens to help understand why fatal crashes occur. The data can help municipalities improve safety by adding additional infrastructure improvements, such as additional signs, changes to speed limits, or traffic stops. 
As a resident or potential visitor, this study can help drivers, pedestrians, and bicyclists alike to use additional caution when approaching these roads. It may even help inform the community of alternate routes that offer more safety and protection. 
What Can You Do to Prevent a Collision?
Most accidents are not accidents at all and occur due to negligence. If you or a loved one is planning a trip to Florida, there are things you can do to mitigate your chances of being involved in an auto collision:
Don't Drink and Drive
In 2019, there were a total of 814 fatalities that were caused by alcohol-imparied driving in Florida alone. While vacation may be synonymous with relaxing and enjoying a few drinks, never get behind the wheel after drinking. Instead, opt for a taxi or a rideshare service to get you from one destination to the next.
Avoid Distracting Behaviors
Changing the music, answering texts, and eating behind the wheel can all wait until you arrive at your destination or come to a full and complete stop. Even taking your eyes off the road for a few seconds could be cause for a car collision. Opt to set your preferences in your car before the wheels start turning to help keep your focus on the road.    
Drive Defensively
Defensive driving puts an emphasis on protecting you and your passengers from harm. The techniques associated with this style of driving helps a driver to effectively react to unexpected events and threats on the road. By maintaining situational awareness, identifying roadway hazards, and evaluating roadway conditions, defensive driving enables drivers to make educated decisions about the best course of action while driving. 
Whether a work trip, job, or vacation leads you to driving on Florida roads, it is important to drive safely. Reviewing this study you can help contribute to safety on the road by being aware of high-risk areas and using additional caution.