This analysis is part of a series examining holiday-related injuries.  Don't miss our look into Christmas decoration injuries.
There's nothing like the magic of a pile of presents stacked under a twinkling Christmas tree. The givers have chosen and wrapped their gifts with care, and the receivers can't wait to tear off the wrapping paper to see what goodies they got.
But beware! Sometimes it's not all frilly bows and happy smiles… sometimes, people get hurt.
According to the Consumer Product Safety Commission (CPSC), between 2001 and 2020 an estimated 538,000 Americans were treated at emergency rooms for injuries due to paper products–including wrapping paper.
The CPSC provided detailed case records for 466 of these ER visits. We carefully divided them up into gift wrapping injuries and gift unwrapping injuries and analyzed them to see what can go wrong during such a joyous occasion.  These injuries happen in a variety of ways, from parents cutting their fingers on scissors to gift wrapping paper catching fire and burning kids' hands.
Example Narratives
(Pardon our physician shorthand)
13 YOM OPENING GIFTS WITH A POCKETKNIFE HIS HAND SLIPPED AND HE CUT INDEX FINGER DX LACERATION FINGER
53 YOF. LT EYE PAIN AFTER OPENING A GIFT BAG & SCRATCHED HER LT EYE. DX: ABRASION OF LT CORNEA
PT CUT SIDE OF LEFT THUMB WITH SCISSORS WHEN OPENING A PLASTIC TOY WRAPPER ON GIFT THIS AM LEFT THUMB LACERATION
46 Y/O F INJURED LOWER BACK WHEN SITTING ON FLOOR WRAPPING GIFTS AT HOME. DX; LUMBAR STRAIN.
19 YR OLD FEMALE WRAPPING GIFT WHEN PAPER CAUGHT FIRE FROM CANDLE AND PUT OUT FIRE WITH HAND BURNING IT,NO FIRE DEPT
34YOM W/PAIN LUMBAR SPINE & RADIATES INTO UPPER BACK. PT FEELS THAT THIS MAY HAVE BEEN PRECIPITATED BY SITTING ON THE FLOOR WRAPPING CHRISTMAS PRESENTS & DOING MORE PHYSICAL ACTIVITY THAT TYPICAL WHILE TAKING CARE OF THIS CHILD WHO HAS CEREBRAL PALSY. DX: LOW BACK PAIN
6 YO M PT HOLDING A WRAPPING PAPER CARDBOARD TUBE UP TO HIS MOUTH AND ACCIDENTALY RAN INTO THE STAIRCASE CUTTING HIS TONGUE, DX LAC TONGUE
Injuries Peak In December
First off, it's clear to see that both wrapping and unwrapping injuries overwhelmingly happen in December. Unsurprisingly, wrapping injuries tend to happen in the run-up before Christmas, and unwrapping injuries happen on Christmas day.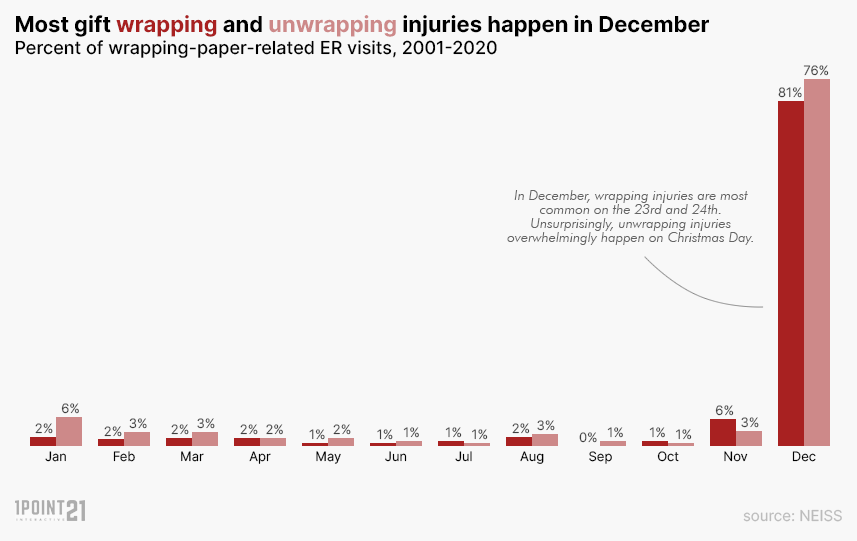 Is it Better to Give or Receive?
In general, the older you are, the more likely you are to be hurt by wrapping gifts rather than unwrapping them. In fact, all gift-wrap injuries to folks over age 75 were due to wrapping gifts, a shameful indication of which direction the presents are flowing!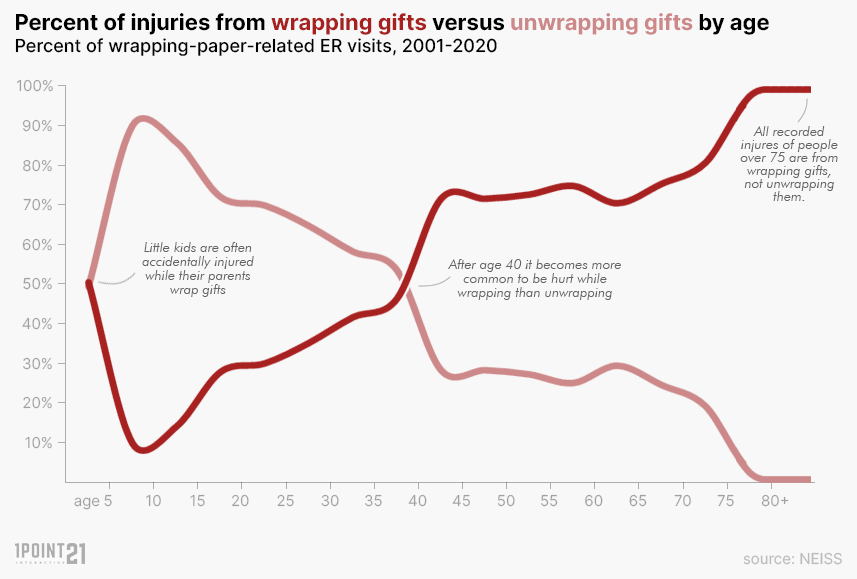 One interesting detail, however, is that kids under 5 are about equally injured by wrapping and unwrapping gifts. It's not that toddlers are wrapping presents themselves–rather, they often are injured accidentally by scissors and the like as their parents wrap.
Men vs Women: Who is Hurt More Often
Gender roles are very clear in wrapping vs. unwrapping injury rates. Women are significantly more commonly injured while wrapping presents than unwrapping them, and men vice versa. Women, especially mothers, take on a disproportionate amount of holiday prep work, and this is plainly indicated in ER visits.

Injuries: Present(s) and Accounted For
Finally, we were curious about what types of injuries happen during wrapping and unwrapping.
Unwrapping injuries are heavily concentrated in the fingers, wrists, and hands. We ready many cases involving a patient who was using a knife to open a gift, slipped, and cut themselves.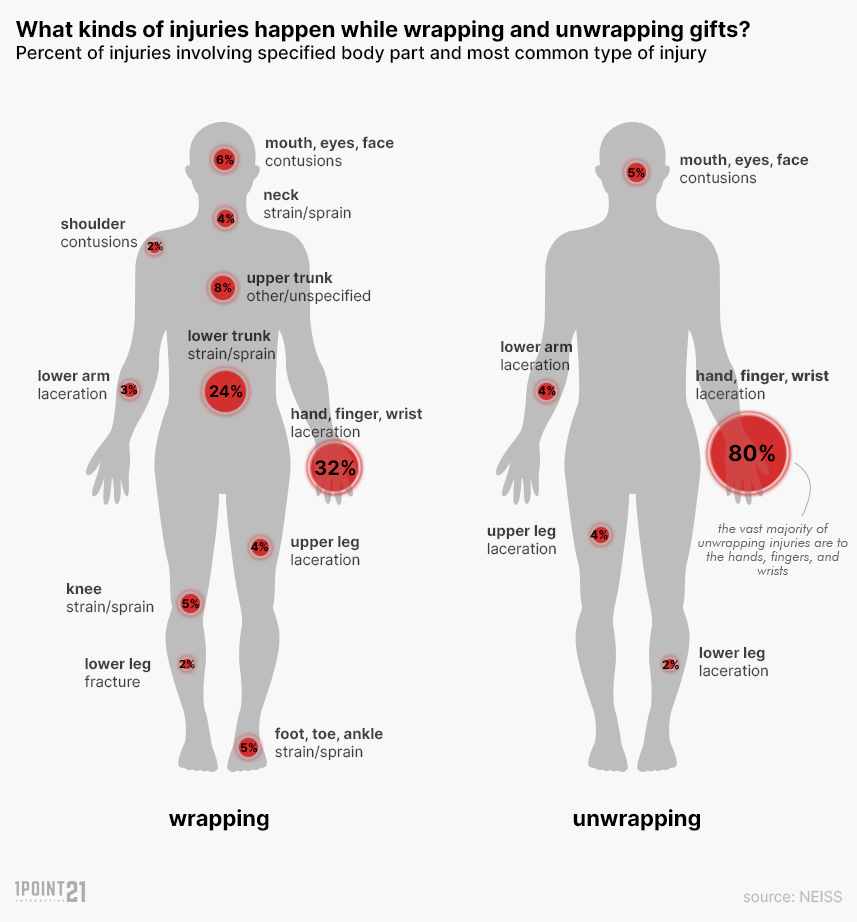 Lacerations are also common among wrapping injuries. Another theme we observed was folks sitting on the floor to wrap gifts and straining their backs and necks.
Here at Safer America, we wish you a joyous and safe holiday season. To avoid injuries, try practicing these ergonomic gift-giving techniques:
Stand and stretch often when participating in a gift-wrapping marathon
Wrap gifts so they're easy to open without resorting to knives
If a knife is necessary, use caution, and step in to help youngsters
Clean up wrapping paper quickly so nobody slips and falls on it
Give more gifts to your grandparents!