This post is part of a series examining how people are injured around the holidays.  Don't miss our analysis of gift wrapping injuries.
Deck the halls with boughs of… ow!
The Consumer Product Safety Commission estimates that every year, more than 18,000 Americans go the ER for injuries caused by Christmas decor.
We here at Safer America were very surprised by this statistic and wanted to look further into it. Specifically, we wondered whether it's more dangerous to set up Christmas decorations or take them back down. We worked with the folks at 1Point21 Interactive to investigate.
To quantify this, we decided that Christmas-decor-related injuries in the 45 days before Christmas counted as set-up injuries. Injuries in the 45 days after counted as take-down injuries.  The injuries and events run the gamut from children eating lights to adults falling off of ladders and roofs.
Example narratives 
(pardon our physician shorthand)
66 YOF WAS STRUCK TO EYE BY PLASTIC CHRISTMAS TREE WHILE DISASSEMBLING IT.DX:  R GLOBE RUPTURE.
5 YO F STEPPED ON A CHRISTMAS ORNAMENT 2 WEEKS AGO, COMPLAINING OF PAINFOOT AND TOE. DX FOREIGN BODY GREAT TOE
3 YOM PULLED HIS CHRISTMAS STOCKING OFF THE MANTLE AND STOCKING HOLDER FELL OFF STRIKING PT IN FOREHEAD DX LACERATION
MOM STATES PT PUT A "FUZZYBALL" ORNAMENT IN NOSE, FB NOSE
LADDER SLIPPED WHILE PT WAS HANGING XMAS LIGHTS, PT GRABBED GUTTER AND FELL 1 STORY. DX: LUMBAR STRAIN, S1 RADICULOPATHY, DDD.
Which is More Dangerous? Set Up or Take Down?
When plotting the number of injuries by day, it's immediately clear that the Christmas set-up is much more dangerous than take-down. Injuries quickly start to rise by mid-November, peak in early December, and trend downward from there. Overall, there are roughly 3 times as many setup injuries as there are takedown ones.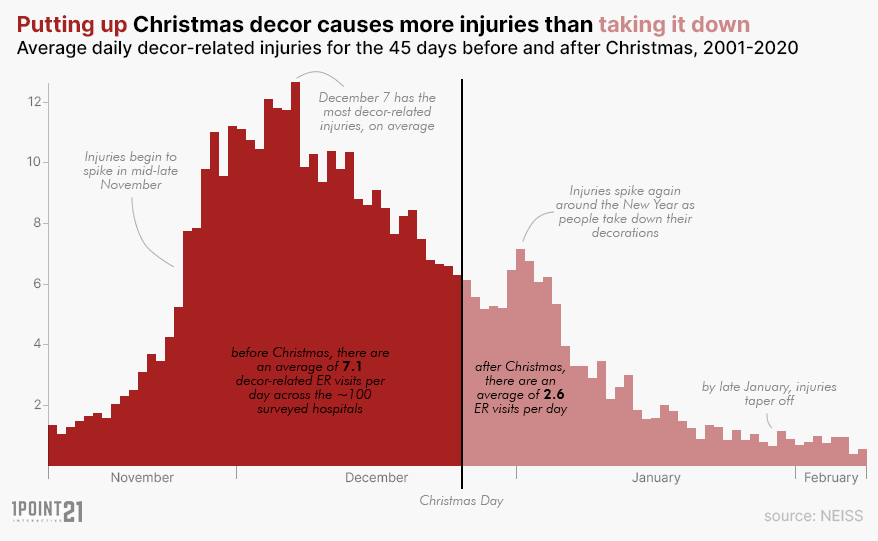 We're not entirely sure why the distribution is so skewed. One possibility is that folks might make the setup a bit more "festive" with the addition of eggnog or mulled wine, whereas takedown is a less fun-filled occasion.
Who Is Hurt Most Often?
Another, stronger, possibility is the involvement of children in Christmas decorating. Little kids love helping put up decorations, but usually aren't involved in the post-holiday cleanup. They're therefore much more likely to be injured during setup than takedown, inflating the overall averages.
Men and women were injured at similar rates during both setup and takedown. Women were only slightly more commonly injured than men–quite the opposite of our study of gift wrapping injuries.

The good news is that 90% of patients were treated and released from the ER. 9% of patients were admitted to the hospital. There were just 2 fatalities (about 0.02% of all cases).
Injuries for takedown and setup were substantially similar, with cuts, sprains, bruises, and bone breaks among the most common diagnoses.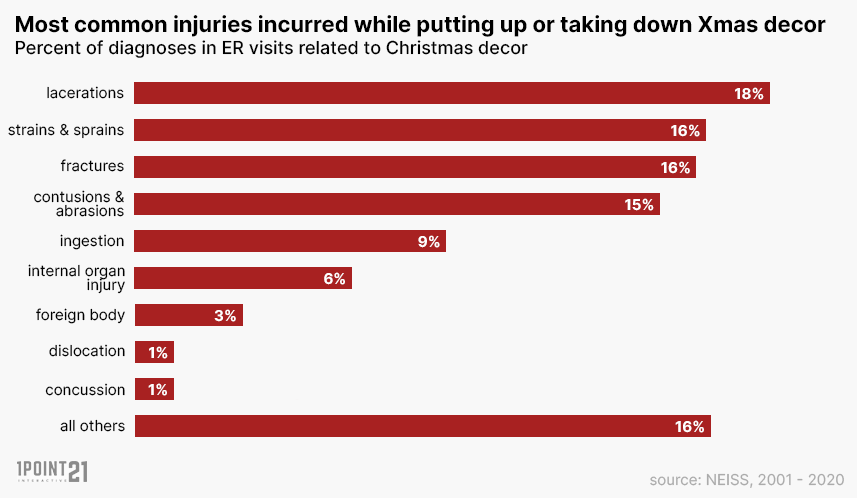 Which Decor Hurts More?
Every item of decor we looked at caused more injuries to set up than to take down. Some, like wreaths and garlands, were extremely skewed towards setup. Others, like Christmas tree stands, were closer to even.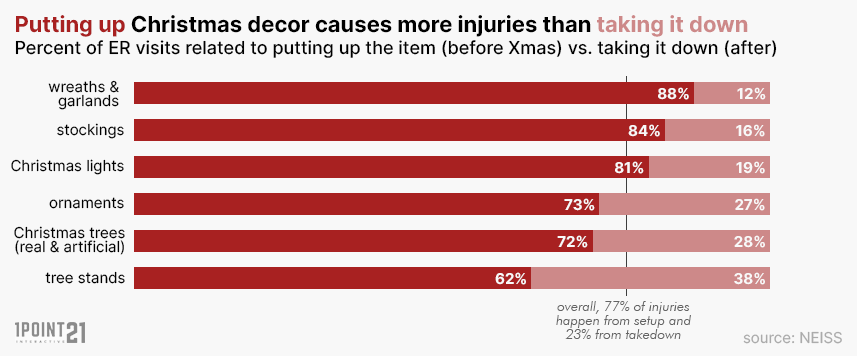 We at Safer America wish you a happy and safe holiday season! Go easy on the eggnog if you're going to climb any ladders, don't leave glass ornaments on the floor for folks to step on, and make sure the little ones aren't tempted to put any jingle bells in their noses.