There are several life hacks that can create multiple benefits for emotional, physical and financial well-being. Some of these hacks outlined can overlap and connect to one another. By implementing these life hacks into one's own life, an individual can help provide the measures and good habits needed to have a financially, emotional and physically stable life. 
What are Financial Health Life Hacks?
Below are some valuable ways to maximize your finances, protect sensitive data and leverage the opportunities available. 
Lock a Line on Your Credit
It seems like every week another data breach occurs that impacts millions of US residents. To combat the frivolous security measures that certain entities have on their platforms, that eventually result in data breaches. 
To help minimize a cyber criminal obtaining highly sensitive and personal information, lock at least one of your lines of credit. The three main credit bureaus in the United States are Equifax, Experian & Transunion.
While Transunion and Equifax have an associated fee with locking a line of credit, Experian does not. 
It is free to place a security freeze on the Experian line of credit and you can lift the freeze at any point free of charge. To do so a user can create an account free of charge. 
In the event that one's identity is compromised and a cyber criminal attempts to open fraudulent accounts or credit cards with another's social security information, the criminal will be unable to do so with a locked line of credit. This is a great, fiscally responsible option to block cyber criminals from doing damage to your financial well-being.
All three credit bureaus need to be unlocked to open a new line of credit so freezing one can thwart a potential identity fraud against your person. Remember to unfreeze the line of credit before application for a loan or any credit card. 
Get a VPN
A VPN is an encrypted service that adjusts the IP location for a device. Many VPNs allow subscribers to adjust the server their device is pinging. Unlock content from other US regions and international content that is unavailable in your current local location.
If you have ever traveled outside of the United States and accessed a streaming service on your device, you may have noticed that there are different titles of content available in different regions. A VPN allows a subscriber to select their IP address location and funnel their requests through a the pre-selected server to adjust the server's location. Many of these services range between $5-$10 a month. 
Clear browsing data, use incognito tabs and/or a VPN to search for flights
If life requires one to embark on air travel, understand that those in the early stages of planning a trip a search engine, online travel booking service or flights from a provider track customers and potential customers behavior and as a result consumers may see higher charges the next time they return to the site.
Flights and travel agencies may charge higher rates after the initial visit to a website. Clear cache, clear data, use a VPN and/or use incognito windows to help minimize tracking data.  
Get an RFID Blocking Wallet
Scammers can grab sensitive information without your knowledge. Help minimize these scams with an RFID wallet that blocks fraudulent behavior from occurring without your knowledge. 
Be Flexible For Vacations
Want to go on a tropical or international vacation but the travel party is flexible to the exact destination? 
Instead of pigeon holing your search to one destination or departure airport from your native country, perform the necessary research and look at a map to identify more affordable travel options. Larger cities that act as hubs for a region tend to have more affordable international and domestic fares. The fewer connecting flights, the cheaper these flights tend to be. 
If  live near an international border, look for flights on the other side of the border. Citizens in cities like Los Angeles, San Diego, Corpus Christi and San Antonio are easily able to travel out of airports in Mexico including Tijuana, Juarez and Nuevo Laredo. 
Those in US cities that are close to the US – Canadian border of Seattle, Buffalo & Rochester NY, all are able to travel to a Canadian airport in under three hours. 
The reason this is beneficial is because when you fly domestically vs. internationally travelers are not hit with the same international taxes and the flights tend to be more direct. 
For example, In August 2022, Flights out of San Diego, CA to Cancun, MX had a difference in pricing of $240 for a round trip ticket. That's more than 300% higher to fly out of San Diego with an extra six hours of travel time. 
San Diego, CA – Cancun, QI: $360 round trip (Two stops 10hr30min & no bags)
Tijuana, BN – Cancun, QI: $119 round trip (Nonstop, 4hr50min & no bags)
When we look at cities on the US & Canada border, the flight prices also highlight the large pricing discrepancy between domestic and international fares. 
Seattle, WA – Toronto, ON: $546 round trip (Two stops, 8hr55min & no bags)
Vancouver, BC – Toronto, ON: $251 round trip (Nonstop, 4hr20min & no bags)
International flights from Seattle to Toronto compared to Vancouver to Toronto were 217% more expensive. 
Always ensure to check the most current travel regulations and restrictions for your departure and arrival destination. Pandemic regulations can change very quickly and certain geo-political entities may require proof of vaccination and/or a negative COVID-19 test to travel to the destination. 
Apple AirTag & Luggage
How do you find your bag when your airlines can't locate it? Insert an apple tag into your checked luggage. 
As of July, 2022 airlines in the United States have struggled to keep up with the influx of travelers and have misplaced hundreds of thousands of pieces of luggage. If you have to check a bag, ensure that you have an Apple AirTag to assist in the event that luggage is misplaced. 
Get a Good Travel Credit Card
If you have good or excellent credit, you may be eligible for a travel credit with great travel benefits.
Cards like the Chase Sapphire Reserve, offer exceptional perks that include large signup bonuses, travel insurance to help minimize costs associated with travel disruption, $300 travel credits for anything marked as travel (rideshares, gas stations, hotels, flight bookings and the like). 
Additionally, this credit card will reimburse cardholders up to $100 every four years for Global Entry, Nexus or TSA PreCheck.
While the annual fee comes in at a whopping $550, if a consumer takes advantage of the benefits and perks of the card and pays the credit-card balance the balance for the annual fee is closer to $150 after the $300 travel credit and reimbursement for Global Entry or TSA PreCheck. Additionally, if a cardholder utilizes their points and books travel through the travel portal from Chase, the points and your money go much further compared to more traditional forms of booking. 
Hire a Money Manager or Financial Advisor
Unless you studied finance and are familiar and comprehend the nuances of tax law, it may be in one's best interests to hire a money manager. 
A money manager can help individuals grow their net worth. Always discuss the expected returns of any investment with a money manager and understand that financial professionals can help maximize year over year returns in the markets. 
Get Solar Power
If you are fortunate enough to own property in the United States, it's important to leverage all of the natural resources available. One of the biggest opportunities to lower energy costs is to add solar power to your residence. 
While the installation costs can be high, the benefits of solar power can drastically reduce your monthly energy bill. Some solar installers state that the solar units can pay themselves off between five and fifteen years, but the break-even point may be closer to three years for some.
Several variables contribute to the discrepancy in the break-even point but if energy prices are high in your region and the region gets 300+ days of sunshine annually, solar power can pay itself off much quicker compared to other regions. 
Sell a Vehicle
With the shift from the office to work from home. Individuals across the country are driving less than pre-pandemic days. 
There have been few times in this country's history where the resale market is hotter for used vehicles. If you or family members are driving less and are married to another person that has a vehicle, sharing a car may be a good idea for the interim. 
If you have a car payment, the cash received from the buyer can offset any outstanding balance with the lender. Additionally, when you sell a car you will have one less vehicle to pay car accident insurance for. 
Depending on the make, model, year and driving record and age of the primary driver, car insurance can cost upwards of $2500 per year.
Leverage Your Property Value
Individuals that are property owners in the United States can utilize the property's equity and obtain lower interest loans. 
A popular option to tapping into the home's value is to open a HELOC loan. A HELOC loan acts as a line of credit that account holders can tap into if liquid funds are needed. 
There is no interest on the loan unless a withdrawal is made. In the event that a withdrawal is made, the loan will depend on the federal rate which can vary. Dependent on the loan entity, the company may take a small brokerage fee.
HELOC loans can be very advantageous for individuals that have large credit card debts and want to pay off these debts with a lower interest rate. As of August 2022, HELOC loans hover around 5% APR while credit card interests rates can hover between 20-30% APR.  
One of the biggest downsides of the HELOC loan is that the lender will take out a lien on your home. However, the APR rates are quite attractive for those looking for a lower interest loan.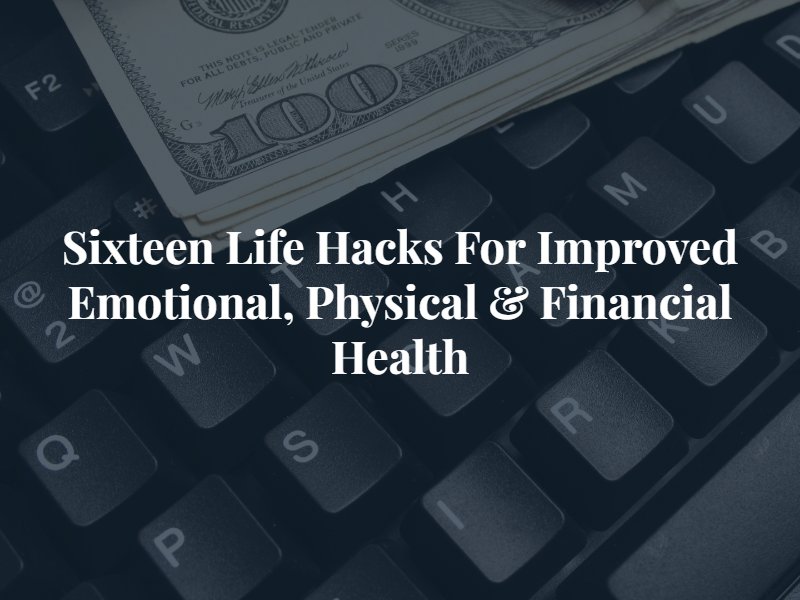 What are Physical & Emotional Health Life Hacks?
Exercise
Exercising can help financial well-being, emotional well-being and obviously physical well-being. Find an activity that you enjoy doing and that gets the heart rate going. 
Sedentary lifestyles are linked to cardiovascular disease, obesity, depression, anxiety and several other conditions that can drastically reduce an individual's lifespan. 
Meal Prep & Adjust Diet
The United States has one of the highest consumption rates of animal protein per capita on the planet. With the disruption of the food supply chain caused by COVID-19, compounded with inflation, prices have skyrocketed since March 2022.
Replacing animal protein with vegetables or alternative proteins and implementing these different proteins into one's diet for even a couple of meals a week can cause benefits in emotional, physical and financial health.
If you work from the office full time and eat out daily, odds are you are spending at least $10 per meal. In California one can reasonably expect to pay $15 for a lunch combo. 
If a person spends $15 every day on lunch the amount of money that person has spent on lunch by the end of the year equates to $3,900. 
Employees can save money by prepping lunches at home and use the money they've saved towards other funds or items at their discretion. 
Get Outside in Nature
Natural light and the natural world can do wonders for one's psyche. Go on a hike, enjoy the natural landscapes in the local region and disconnect from digital devices in the natural world. 
Minimize or Abstain From Soft Drinks
Soft drinks contain very high amounts of sugars and high fructose corn syrups. These added sugars offer no beneficial nutrients and contribute to health issues. 
Instead of drinking sugary soft drinks, swap them out for carbonated water beverages or healthy drink options that are less sugary in nature. Flavored tonic waters taste great and have zero sugars. 
Focus on the Positive
Every night before your head hits the pillow, take at least five minutes and reflect on positives from the day. Our minds can focus on the negative, but if we take a few moments every day to reflect on what went well, opposed to what did not, our mental health and self-confidence can progress.