With another year coming to an end and 2016 just around the corner, we've rounded out a list of some of the top crazy, innovative pieces of technology we've come across. From self-watering plants to vacuum-powered trash cans, here's a list of some of the top items you can still get your hands on before the year is over.
For creative spirits: Phree
The world's first unrestricted, high resolution, write-virtually anywhere mobile input device
This smart pen can write on any surface through its utilization of automatic pen stroke data to an app on your smartphone. Phree tracks both the strokes and the spaces in between that are made on the surface. It's pressure-sensitive and inkless, but you can still see what you're drawing or writing in real time on your phone, PC or tablet. Unlike most digital note-taking and drawing devices that are limited to glass screens, Phree can be used on the go – on a table, on your lap, or even a wall. Running at under $200, this Bluetooth pen is perfect for those wanting to unleash their innovative genius.
For pet lovers: Petcube
Watch, talk and play laser games with your furry friend through via a mobile app anytime, anywhere

Image credit:
Petcube
This handy gadget is akin to a baby monitor for your pets. It's equipped with a built-in camera, laser and speaker for engaging with your pets in an array of ways while you're out of the house. Together with the free Petcube app, you can even talk to your pet if they're causing a ruckus in your home. It also allows you to share access to your Petcube with friends and family and you can even connect with public Petcubes and follow updates. The Petcube runs at $199 and is compatible for both iOS and Android devices.
Keep a close eye on your plants with this handy plant sensor
This smart sensor device can easily be inserted into the ground or in a pot to monitor your plant's environment variables like sunlight, humidity, temperature and fertilizer. The data is sent to the cloud via Bluetooth to your mobile device, where you can then browse Parrot's plant database for tips on extra care for your herbal friends. The weatherproof device runs at $90.
Seize the power with this wearable input device that lets you control anything – from text transmission to gesture control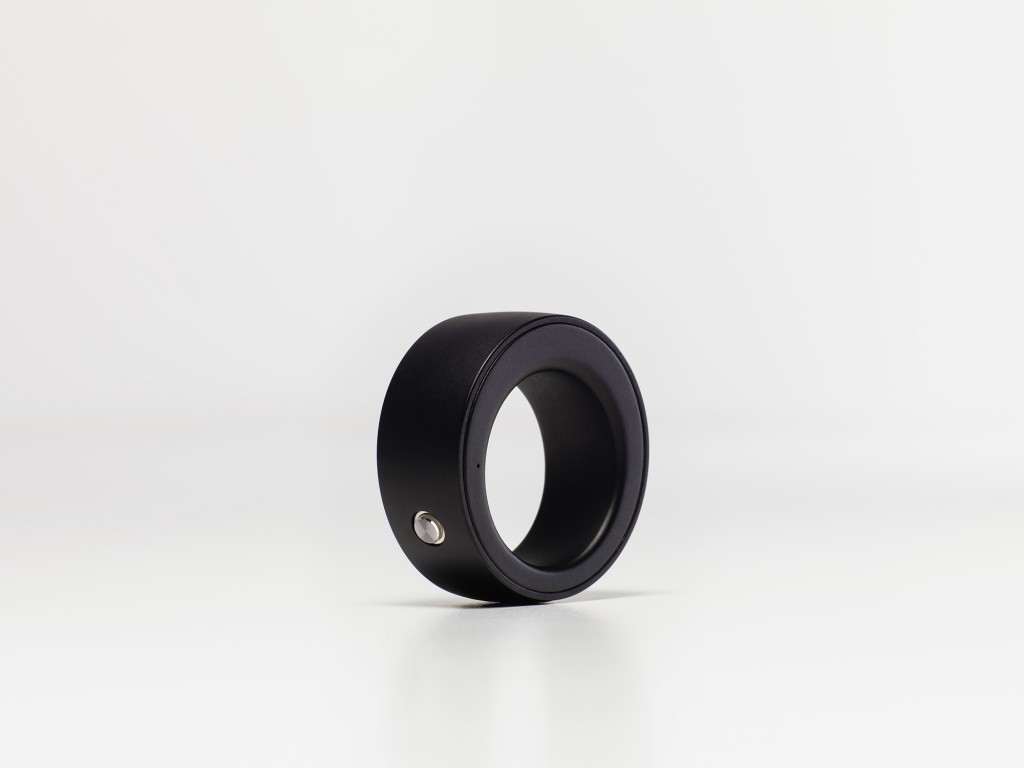 Image credit: Ring Zero
With this ring, you are given the magical power of controlling everything in your home with just a wave of your finger. You can operate appliances, control lights, change the song or turn up the music on your iPhone, or even take photos. You can pre-order the ring – which will be available in matte black and white – through Amazon for $150, with a delivery date for the end of April.
For weight-conscious individuals: Belty Smart Belt
This smart belt slims or expands to adjust to changes in your waistline
The Belty wirelessly connects with your smartphone so you can teach it preferences based on things like sitting or standing. For example, the Belty will automatically loosen when you sit down, and tighten when you stand up. Besides expanding when your waist get bigger, the Belty can also track activity via a built-in accelerometer.
For smokers trying to cut down: Quitbit Lighter
This smart lighter helps you track and curb your smoking habits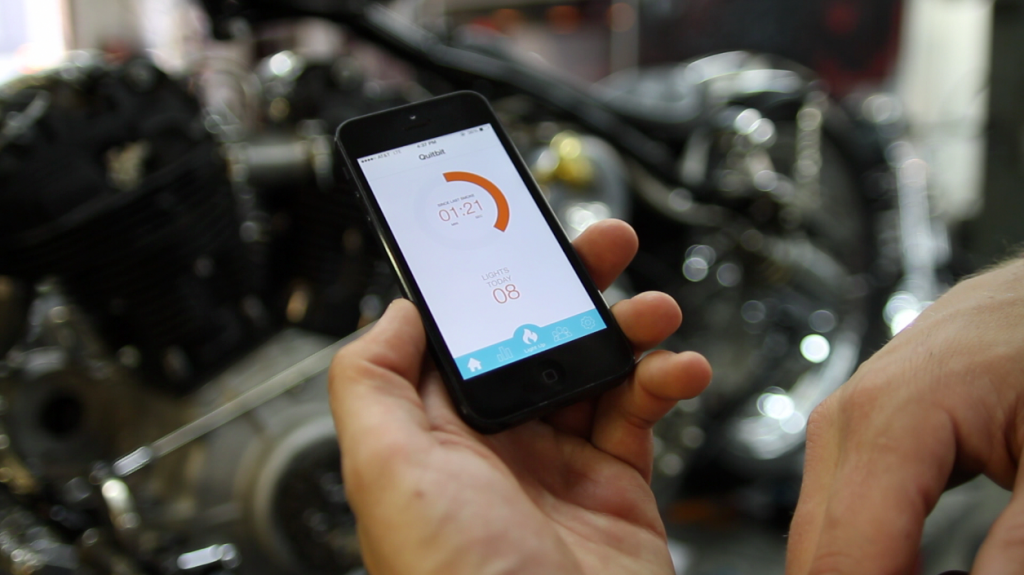 Image credit: Quitbit
This rechargeable lighter uses a heating element to light up your smoke, keeping track of every time you do and displays that information on the built-in display. With the companion app that syncs over Bluetooth, you can view when you smoke, how much you smoke, the amount of time since your last puff, and an accumulation of your trends over time. The Quitbit retails at $129.
This WiFi-enabled smart device is automated, hands-free and comes equipped with a built-in vacuum
Tired of bending down and sweeping into a dust pan? The Bruno Smart Trash Can is aimed at helping make your life a little bit easier with its high-tech features such as a motion-sensor lid and its ability to remind you when it's time to take out the trash or when more bags are needed. Its hallmark component- a hidden vacuum that sucks up the target items you sweep at ground-level, allowing you to go about your business without aggravating your aching back. You can pre-order the smart can for $179 and delivery by February 2016.
Strengthen your core (while sitting down) with a workout in your home or office


Image credit:
TaoChair
With research showing that prolonged amounts of time sitting could cause skeletal, muscular and cardiovascular issues over time, the Tao Chair was invented with a vision to reduce those problems. Think of it as an invisible gym – you can burn calories while typing at your desk or browsing your favorite Netflix shows. Although it looks like a normal lounging chair, the Tao Chair aims to work your core, improve posture, burn calories, reduce stress and strengthen muscles. It utilizes exercises related to isometrics; after sitting, users can push or pull against the chair's upholstered arms with their legs or arms in any direction. One of the arms even comes with a small display that highlights calories lost and other workout statistics. When paired with the mobile app, you can view and implement dozens of exercises and even play games to get the most out of your workout.
For environmentally-conscious consumers: LG Twin Wash System
Save water, energy and time with this duo that lets you wash two loads at the same time
This laundry system pairs a regular front-load washer with a second, smaller washer built into the pedestal below, appropriately called a "Sidekick" unit. Twin Wash allows you to run simultaneous cleaning cycles. The general idea is that you can stash your bulky items up top and smaller more delicate items below with less time wasted. Since they are technically standalone units, they have separate water hookups, so the water that's cleaning your bright red towels in the upper machine won't mix with the water that's cleaning your white t-shirts in the lower one. The washing duo runs at a steep $1,800.
Heat any liquid – water, coffee, tea, milk – directly in a vessel while cutting down on excess water and energy usage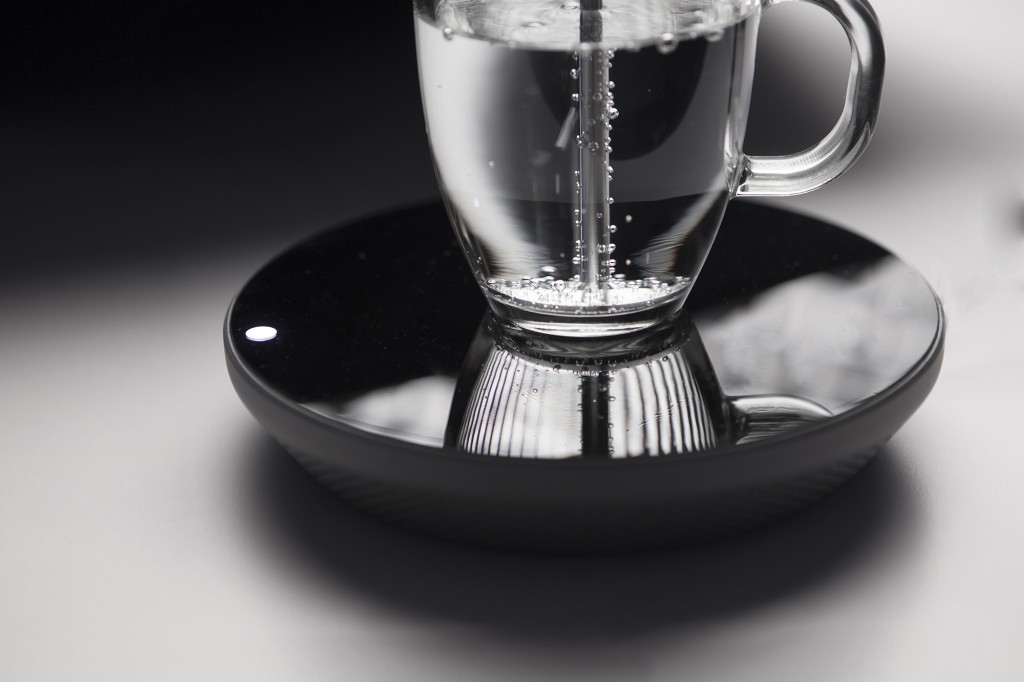 Image credit: Miito
Think of this as an inventive, high-tech version of the electric kettle. This device is comprised of a base unit containing an electromagnet that is plugged into a wall socket and a thin metal rod with a large round foot and a plastic-coated tip to hold. You can heat almost any liquid – milk, coffee, soups and more – in any container that doesn't contain iron. All you have to do is switch the platform on, place the glass or bowl on it, drop the heating rod in and the liquid will be heated via induction energy. Creators said it can heat a cup of water in 60 seconds, but heating times will vary based on the liquid and thickness of the container. Retail price is going for $84.

Feature image credit: Miito