In the Western United States, wildfire season usually occurs during times of drought and warm weather, running from summer through fall. In California, it peaks during September and October. California is notorious for suffering from devastating wildfires every year and this year is going to be no exception.
Last year, amid the coronavirus pandemic, California was dealing with another crisis it's residents are all too familiar with: wildfire season. The 2020 wildfire season ravaged California, breaking records along the way, leading to the worst wildfire season the state had ever seen. Over 4 million acres were burned (2 million more than the previous record from 2018), 33 lives lost, and almost 10,000 separate incidents recorded. As bad as last year's wildfire season was, experts have estimated that the 2021 wildfire season will be even worse.
Update: The Dixie Fire in Northern California set a record as the largest non-complex fire in the State's History.
California Governor Gavin Newsom has gotten a head start on protecting the state from another devastating fire season, announcing a wildfire prevention funding package in April. The funding plan allocates $536 million to improve the state's resilience to the upcoming fire season. Even more recently, Gov. Newsom detailed a new budget of $2 billion dedicated to wildfire preparedness.
What makes a wildfire season worse than the rest? 
Usually there are two factors that come to mind when thinking about what contributes to the start of a wildfire: drought and heat waves. But these do not make a wildfire season inherently "worse" than others. 
What causes wildfires to be particularly devastating (especially seen in the 2020 wildfire season in California) is:
Dry lightning

(caused by tropical storms from Mexico that travel north)

Downslope winds
Dead fuel

(drought-ridden trees suffering from insect infestations)

Increased human activity in formerly low-populated wildland areas

(fires aren't created out of thin air, human activity contributes to the start of them)
Relating to all of these factors, the 2021 fuel-moisture content (FMC) samples are fueling concern for the upcoming fire season. The FMC measures water in shrubs, trees, and plants available to a fire. The lower the FMC, the more susceptible to burning the vegetation is. This year's FMC samples from the Santa Cruz Mountains measured 40% below average.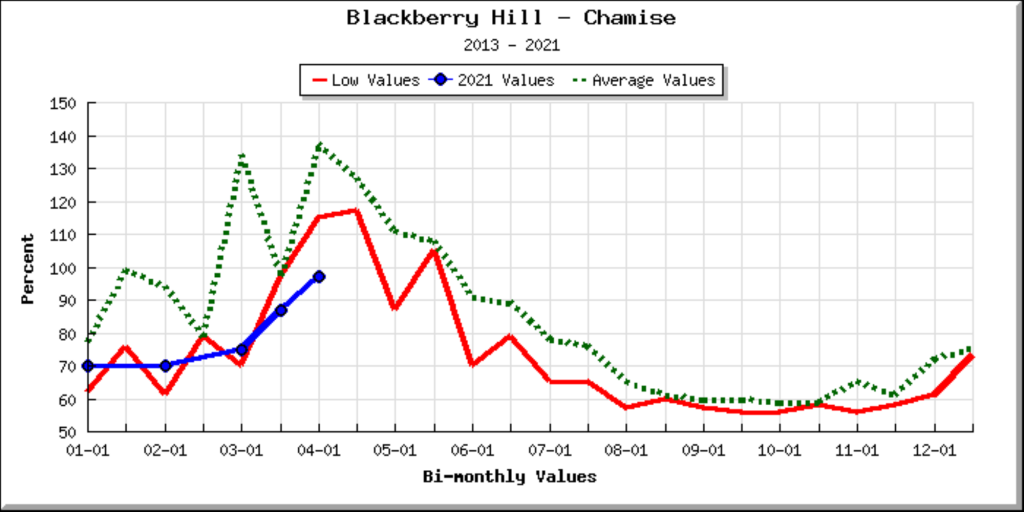 San José State University's Fire Weather Research Laboratory
So, what does all of this mean for California residents?
According to the U.S. Drought Monitor, as of May 25th, more than 70% of the state is experiencing conditions of "extreme" drought. With the current weather conditions and estimations, it is safe to say that this year's fire season will be no different than previous ones. But how can California residents prepare for another devastating year of wildfires?
If you live in a region particularly susceptible to wildfires there are some simple steps you can take to better prepare yourself for the fire season:
Clean up dead vegetation around your home and ensure there are no flammable materials close to structures.

When conducting home repairs or renovations, use fire-resistant materials.

Have an evacuation plan in place. 
Wildfire season is inevitable and wildfires are especially devastating across the Western U.S. California is the state hit hardest by fire season during September and October and this year's season will be no exception. If you reside in an area affected by wildfires, it's important to understand what causes wildfires and what you can do to prepare your family and home. If you have been the victim of a wildfire in California, it is important to speak with an experienced wildfire attorney to understand your legal options for recovery.