A new study finds the most accident-prone zones in Philadelphia for pedestrians, including the exact intersection where most accidents are happening. Ciccarelli Law Offices, a law firm in Philadelphia, ranked the most dangerous places for pedestrians in Philly according to accident and injury data from 2014 to 2018. The city of Philadelphia announced a project called Vision Zero back in 2016, aimed at setting a target of zero traffic-related fatalities by the year 2030. Hopefully, this data can be used to target specific areas that are more prone to pedestrian accidents and help Vision Zero become successful.  The accident study found that in those four years, 13,000 crashes reported, involved pedestrians, causing 385 total pedestrian deaths. Through this data, they mapped out zones within the city where most of these accidents occurred.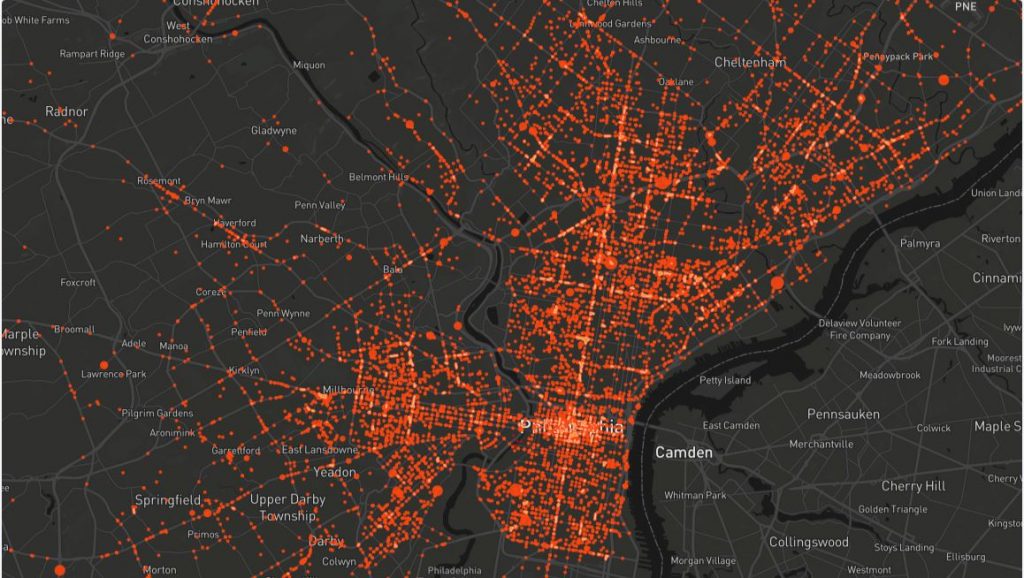 Top 5 Zones With the Most Pedestrian Accidents Reported
N Broad St & Cecil B Moore Ave


This intersection in Philadelphia has had 43 crashes and 45 total injuries between 2014-2018. Zero fatalities were reported.

N Broad St & Erie Ave

This zone had 38 total crashes reported, two deaths, and a total of 37 injuries reported.

N 2nd St & W Lehigh Ave

This intersection had 35 total crashes, six deaths, and 32 total injuries. This zone had the most deaths reported. Most zones had between 0-4.

Frankford Ave & Bridge St

In this intersection, 34 crashes were reported, one death, and a total of 39 injuries.

Broad St & Vine St

This street had 33 total reported crashes, one death, and 32 total injuries.
All of these zones were ranked high based on the number of accidents reported and the number of injuries. The study ranked and highlighted a total of 25 zones in Philadelphia based on statistics collected in four years. The highest amount of deaths were reported on N 2nd St & W Lehigh Ave, no other zone had more than 4 deaths. You will also notice that a lot of these zones are on Broad St. According to the study, the street is dangerous for pedestrians due to how much traffic runs through it and how automobile friendly it is. There is also limited sidewalk space, and limited timing of intersection crosswalks, favoring car speed, and traffic flow.
To be able to measure how successful vision zero will be in the incoming years it's important to look at studies like these and be able to pinpoint the zones with the most accidents, and really figure out what potential causes for high crash activity. Minor changes and modifications to these areas could make a big difference when it comes to reaching the goals vision zero has set for Philadelphia and other major cities.