The beach is one of the most popular destinations for many to go during the summer, especially with the pandemic slowly coming to an end. While some crave the refreshing feeling of the ocean on a sunny day, others like to work on their tan with their toes in the sand. We all daydream about how we would like to spend our time by the sea, but many overlook simple beach safety tips to ensure they enjoy their time responsibly.
Why Beach Safety Matters
Over 400 million people attended the beach in the United States in 2019 with over 300,000 requiring some form of medical aid, according to the United States Lifesaving Association (USLA). Taking the right precautions can keep you and your loved ones away from these statistics and even make your beach time much more enjoyable. Many come from out of town to visit the beach areas hoping to escape the heat and see somewhere new, it's even more important for those not familiar to prepare ahead of time for a new environment.
Water Safety
Water safety is an important part of every summer and while some choose to swim in a pool, others prefer the ocean. One of the most popular things to do at the beach is jumping in the ocean and getting wet, but with over 70,000 rescues in 2019, you may want to consider a few things before jumping in:
Swimming safe: Swimming in the ocean can be much more challenging, especially if you're not a strong swimmer to begin with. Taking swim classes ahead of your beach trip can be a big help as the best way to prevent drowning is learning how to swim.
Keep an eye on the signs: Look out for signs labeling ocean conditions and flags showing where it is safe for you to swim. Red flags stand for dangerous conditions, yellow for mild, and green for safe or low hazard conditions. If you're ever unsure, just check in with the nearest local lifeguard for more info.
Rip current safety: Rip currents are powerful channels of water that flow out to sea. They can be identified by choppy-looking water, with a movement of foam or other objects moving outward. They are one of the leading causes of ocean drownings as they are accountable for 80% of beach rescues. If you find yourself caught in a rip current, make sure you relax and don't swim against the current. You may be able to escape by following the current and exiting to the side, but it's always best to signal for help as well.
Sea life: The last thing to keep in mind is any sea animals you may come into contact with as you go for a swim. With an average of 1,500 injuries related to stingrays reported every year, it's a good idea to at least be aware. It's recommended to shuffle your feet when walking in the ocean to move sand around showing any sea animals that you're there, that way everyone walks (or swims) away happily.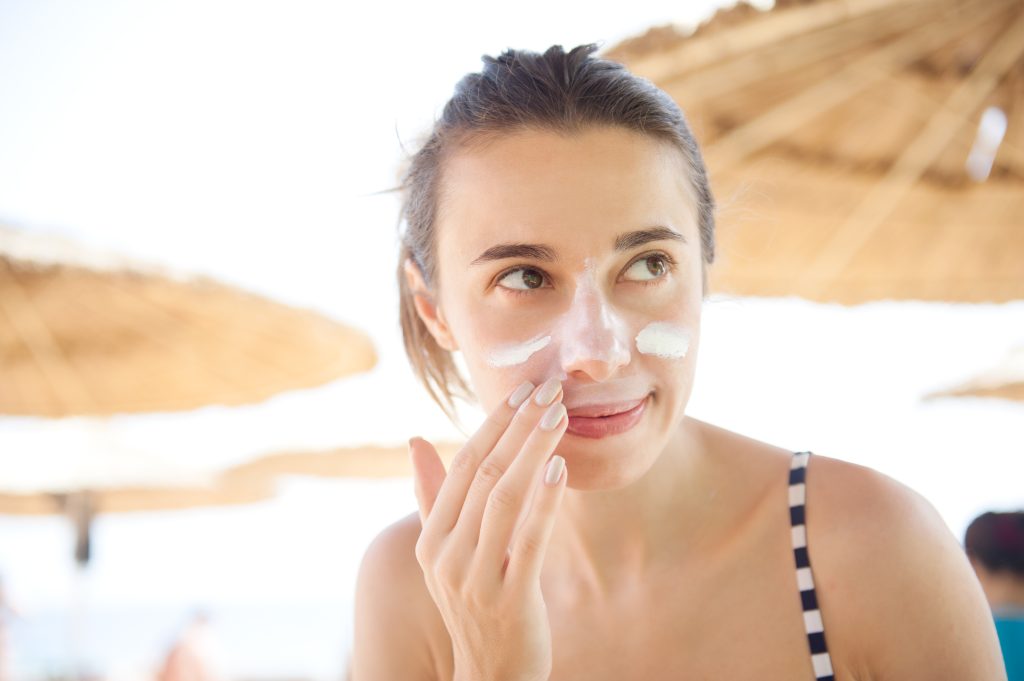 Sun Safety
The sun can easily become your best friend or turn into your worst nightmare, preparing beforehand can save you from getting burned or worse. A few tips include:
Protect your skin: About 1 out of 3 Americans get sunburned every year, according to reports from the U.S. Department of Human and Health Services. The beach is where we go to get a nice tan, however, neglecting basic sun safety can have negative consequences. Short-term effects can lead to a painful sunburn while long-term effects have shown a direct correlation to skin cancer. So grab some sunscreen and apply as needed. If you do stay in the sun too long, products with aloe vera have been shown to significantly help.
Stay hydrated: Sitting in the sun for long periods and engaging in physical activities is the perfect recipe for dehydration. Many wonder how to get hydrated fast in these conditions, but it's best to constantly drink water throughout the day to prevent any issues. Additionally, consider packing fruits and veggies which have also been shown to be hydrating as well.
Leave the alcohol: Although it may seem like an ideal place for a drink, mixing alcohol with extended sun exposure can have dangerous consequences. From heat stroke to drowning, drinking alcohol at the beach is not recommended and it's best to just leave it at home. Instead, focus on bringing drinks to keep you hydrated so you can enjoy your beach day without the negative effects of alcohol.
Don't Forget To Have Fun
The main reason we go to the beach is to relax and enjoy the ocean. Taking the right precautions not only protects you and your loved ones but also eliminates the need for any added stress. By following the tips above you are well on your way to having the perfect day at the beach this summer.