Labor Day is the last major holiday Americans can celebrate before the summer ends. And you know what that means: flocks of families traveling to beaches, parks, and backyard barbecues. With all of the festivities going on, it's easy to gloss over general safety precautions. In this article, you'll learn about six essential labor day safety tips for adults and young children alike.
Labor Day Weekend Safety Tips
1) Drive Safely
Whether you're taking a cross-state road trip or visiting family a few streets down, it's always important to drive safely. This means:
Adjusting your rear-view and side-view mirrors so you can see traffic behind you clearly
Checking your car's vitals (oil level, tire pressure, and servicing that pesky 'check engine' light)
Driving defensively by checking your mirrors, using your turn signal, going the speed limit, and assuming that every other driver is going to drive irresponsibly
Wearing a seatbelt (in 2017, seatbelts saved an estimated 14,955 lives)
Labor Day Safety Statistics
The National Safety Council (NSC) estimates that about 400 Americans on average are involved in fatal auto accidents over Labor Day weekend each year. A high number of these deaths are a result of distracted driving. In addition, the NSC estimates that around 49,000 people each Labor Day weekend experience non-fatal car accident injuries (which are serious enough to seek medical care). The last thing you'll want to do while celebrating with your family is to consult with a car accident attorney because of a careless mistake.
2) Wear Sun Protection
Skin cancer is the most common form of cancer in the U.S. In 2019 alone, there will be approximately 140,690 cancer cases diagnosed. Labor Day weekend is the perfect time to spend outdoors. But aside from protecting your skin, it's important to protect your eyes too.
Wear 100% UV protection sunglasses to protect your eyes from sun damage
Wear at least 30 SPF sunscreen (and reapply every two hours, or every one hour if you're in the water)
3) Grill Responsibly
According to data from the National Fire Protection Association (NFPA), an average of 19,000 patients per year went to the emergency room due to injuries involving grills between 2013 and 2017. Here are some NFPA-sanctioned tips for grilling safely this Labor Day weekend:
Grills should only be used outdoors (both propane and charcoal)
The grill should be placed away from wood objects (e.g. deck railings) and foliage (e.g. branches hanging overhead)
Young children and pets should be kept at least three feet away from the grill
Keep your grill clean by removing fat buildup and grease from the grates and the tray below
Never leave your grill unattended while it's in use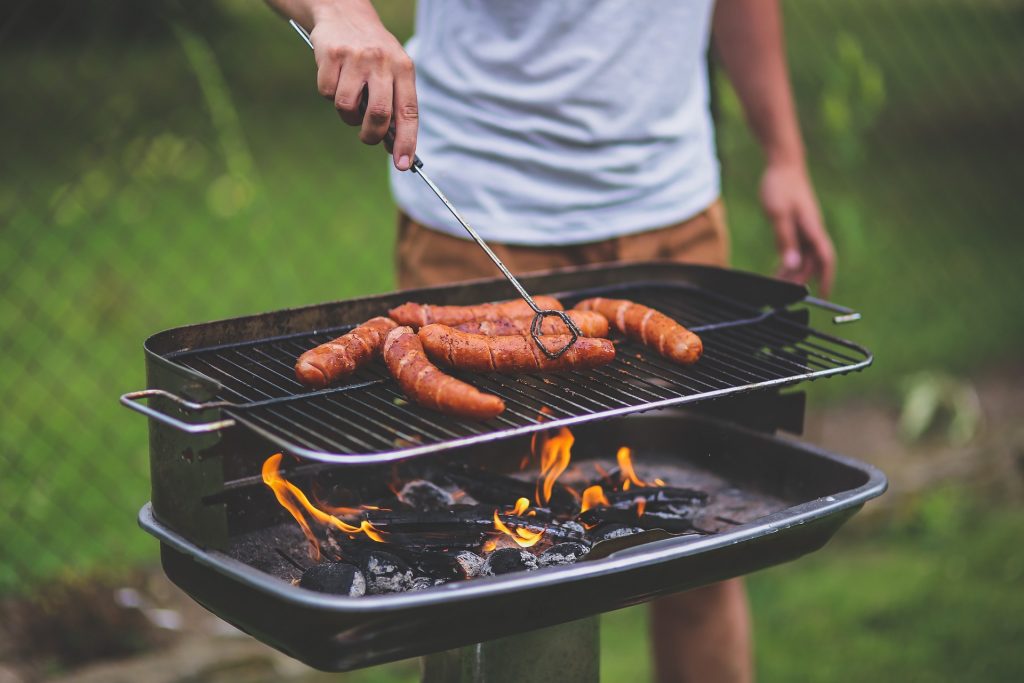 4) Take Caution in Water
Whether you're boating or swimming this Labor Day weekend, be extremely cautious in the water. Every day in the U.S., about ten people die from unintentional drowning.
When swimming: Never swim alone (always have someone near you in case you become incapacitated), make sure young children wear lifejackets, and do not drink and swim
When boating: Do NOT drive under the influence of any non-prescribed drugs or alcohol, keep a first aid kit with you at all times, and be familiar with all of the rules of the water
5) Watch Out for Fireworks
Firework shows are fun to watch and virtually harmless for spectators — but commercial fireworks are very risky. Sparklers, Roman candles, and similar store-bought fireworks contribute to thousands of injuries every year. In 2018, fireworks were involved in an estimated 9,100 injuries treated in U.S. emergency rooms. And children under 15 accounted for 36% of those estimated injuries. If you choose to use fireworks this Labor Day weekend, be sure to:
Only light one firework at a time
Do not point fireworks at anyone
Do not let young children handle fireworks
Do not use fireworks while under the influence of drugs or alcohol
6) Drink Alcohol in Moderation
Even though an estimated six people per day die from alcohol poisoning in the U.S., many more of us are afflicted with chronic dehydration. It's very important to drink plenty of water during your Labor Day festivities, especially if you're going to consume alcohol, which dehydrates your body even more.
Drink water whenever you're thirsty
Set a limit on the amount of alcohol you plan to consume and stick with it
For every alcoholic drink you consume, drink an equal amount of water
NEVER operate machinery, use fireworks, or swim while under the influence
Always have someone available to give you a ride if you consume more than you planned
Be sure to follow these tips to have a safe, fun, and worry-free Labor Day holiday weekend!